Change Management: Definition, Techniques, and Best Practices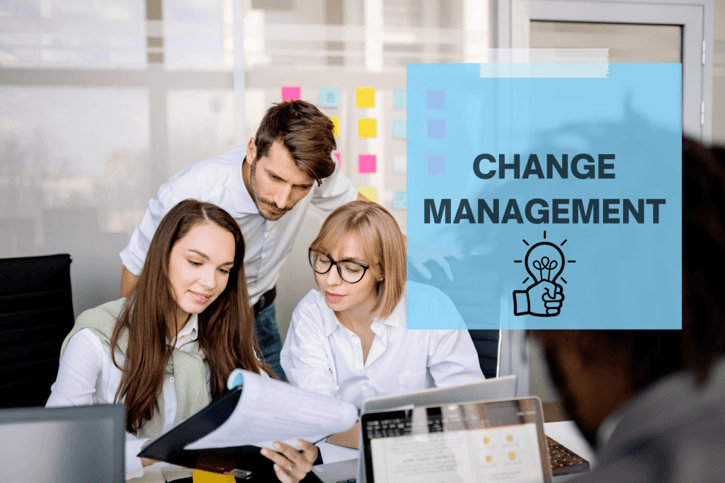 What is change management?
Change management is a process that helps organizations ensure that changes are made in a controlled and safe manner. It includes the tools and techniques used to manage product, service, and system changes. It helps organizations control costs, reduce risks, and improve the quality of their products and services.
Change management is not just about making changes but also about planning for and managing the impact of those changes. It includes employee training and communications to stakeholders and resistance management. This is a process that should be carefully planned and executed to be successful.
If you're considering implementing change management in your organization, keep a few things in mind.
First, change management is not a one-time event but an ongoing process that should be revisited regularly.

Second, change management requires buy-in from all levels of the organization, from the top down.

Finally, change management is not a panacea - it will only fix some of your organizational ills. But, if implemented correctly, it can be a powerful tool for making positive organizational changes.
Why is change management important?
Change management is important because it helps ensure that changes are made in a controlled and systematic way. It also helps to ensure that any potential risks are identified and minimized. Change management provides a structure and framework for making changes. It also helps to ensure that communication lines are open and that everyone knows what is happening.
The following are some reasons why we need to have a good change management system:
External factors:
Change management is important because it helps you manage the changes in your company, whether a new product launch or a new operating model. It's important to create an environment where people can learn and adapt to changes and understand what's required of them.
Making ideas succeed:
Organizations often employ change management techniques to enable innovative ideas to succeed. The change managers and change agents in an organization work closely with project managers to ensure the new capabilities are properly utilized by staff.
Enabling cross-functional changes:
Cross-functional change management helps organizations to successfully manage and implement change by developing a shared understanding of the change process and working collaboratively towards common goals.
Engaging people in the change process
Participating in change initiatives is an integral part of managing change in an organization. Early staff involvement is crucial in the change process since they will eventually be involved. It will be easier to ensure the future success of the process if you communicate and engage with them early on in the process.
Preparing for organizational transition:
Everyone involved must be prepared for what lies ahead to make changes successfully. It means understanding how your system works and how it should work going forward and considering any potential obstacles or barriers to successfully implementing new systems or processes within your organization.
Decreasing resistance to a change initiative
People will inevitably resist any change initiative since new and different ways of working are often unsettling. Employees often react in denial when change managers make changes. It takes time to change those reactions. Change managers who are transparent from the beginning are less likely to encounter resistance.
Improving performance and productivity
Organizations that adopt improved methods of working tend to become more productive. The change management process promotes innovation. It enables improved performance and puts an organization in a healthier, more successful environment.
Reducing costs
Change management can help reduce costs by ensuring that changes are made in a controlled and safe manner. It also helps to ensure that changes are made quickly and efficiently without disrupting the company's everyday operations.
Step change management process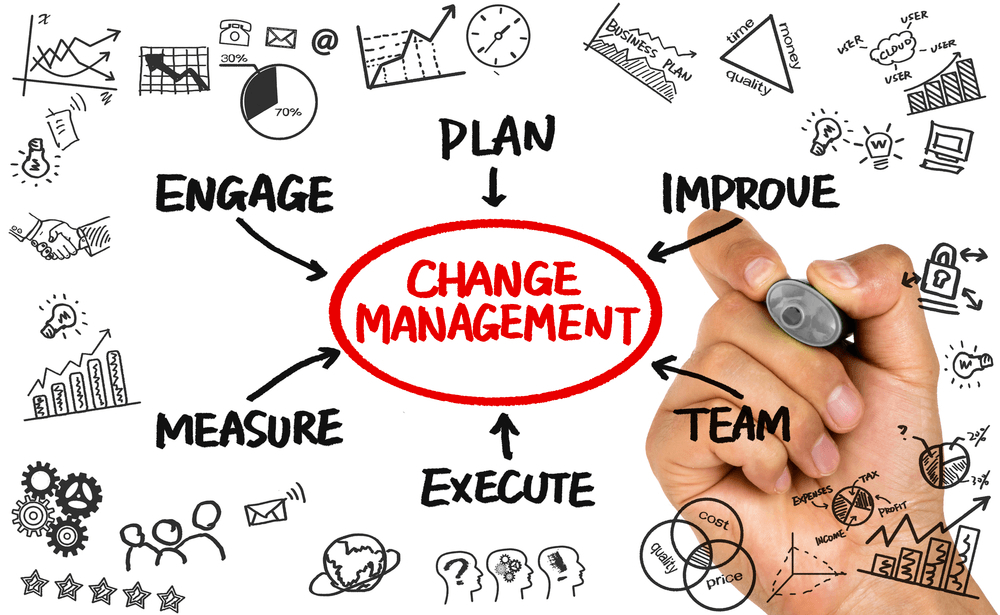 Prepare the Organization for Change
An organization must be prepared logistically and culturally to pursue and implement change successfully. Preparing culturally before exploring logistics is imperative to ensure a successful business outcome.
The manager aims to help employees recognize and understand why change is necessary for the preparation phase. The objective is to increase awareness of the factors influencing status quo dissatisfaction. Employees must be on board with this change to remove friction and resistance later on.
Craft a Vision and Plan
Managers must develop a comprehensive and realistic plan to bring about change as soon as an organization is ready to embrace it. In the plan, you should detail the following:
Strategic goals: What is the organization's goal with this change?

Key performance indicators: What will be measured as success? How should metrics be changed? What is the current state of affairs?

Project stakeholders and team: Who will oversee the change implementation process? Who needs to approve each critical stage? What will be the responsibility for implementation? What will be the responsibility for implementation?

Project scope: What steps and actions will the project include? What are the exceptions to the project's scope?
It is essential to have a structured, flexible, and agile plan for any unknowns or roadblocks during the implementation process.
Implement the Changes
After the plan is created and approved, it's time to implement the changes. The project manager ensures that each project stage is completed on time and within budget.
To do this, you'll need to:
Coordinate with project team members and stakeholders
Develop and track milestones and timelines
Handle communications and updates
Monitor and adjust the project as needed
Embrace change within the Company Culture
To ensure a successful change initiative, change managers must ensure that the status quo will not be reverted. A particular focus should be placed on organizational change related to business processes such as workflows, cultures, and strategies. Employees can revert to the old ways after a transition due to the lack of a good plan.
When a company integrates changes into its culture and practices, it becomes more resistant to backsliding. It is important to consider new organizational structures, controls, and reward systems to make change stick.
Review Progress and Analyze Results
After the changes have been made, it's important to evaluate the results. Did the organization achieve its strategic goals? What impact did the changes have on performance indicators?
It is also essential to communicate the results to project stakeholders. Was the project a success? What lessons were learned? What would you do differently next time? In addition to offering valuable insight and lessons, it also provides valuable lessons for future change efforts.
Benefits of change management
Change management is essential to every change, no matter how big or small. The process of change is not natural for people or organizations, so you need effective management to hit barriers and save time and money. To successfully implement changes that last, change management is essential.
Organizational change management can provide the following benefits:
A proactive approach to overcoming internal resistance.

Encouraging a collective and collaborative effort to drive successful change initiatives

Helping leadership better plan for, implement, and track progress on change initiatives.

Fostering a continuous learning environment better equipped to adapt to future changes.

It allows individuals and employees to navigate change more efficiently, resulting in greater productivity.

Provides organizations with ROI on transformation projects by enabling them to succeed in their change projects.
Some of the benefits of change management at an individual level include:
Greater clarity around an individual's role in a change initiative.
Improved ability to cope with change.
Greater job satisfaction and motivation.
Improved ability to adapt to future changes.


How to manage change effectively?
There is no typical change initiative, but they usually follow a similar approach. Managers and business leaders must thoroughly understand the steps involved in managing change.
The following are some other questions you can ask yourself to help you manage organizational change:
Are you aware of the forces that drive change? You need to understand the underlying causes of change to address them effectively, which will hamper your success.
Do you have a plan? Implementing a change initiative without a detailed plan and a clear change management strategy can be challenging.
How will you communicate? Communicating effectively with your team members and key stakeholders is essential as part of a successful change management process. Communication strategies must acknowledge this reality.
Can you identify potential roadblocks? The good idea is to plan and develop mitigation strategies before beginning a project, even though it's impossible to anticipate everything that might go wrong.

Employee scheduling and Time-tracking software!
Popular change management tools
In addition to using digital and non-digital tools for change management, change management officers can also use them to research, analyze, organize, and implement changes. Most small companies use spreadsheets, flowcharts, and Gantt charts. Large organizations commonly use software suites to track digital changes and provide stakeholders with a holistic view of how they impact the organization.
There are several popular change management software applications, including:
EChangeManager (Giva). It is a cloud-based, standalone application for managing IT change.
ChangeScout (Deloitte). Organize and manage incremental and sea changes with a cloud-based application.
ChangeGear (Serviceaide). Change management is crucial to DevOps, ITIL operations, and business roles.
Freshservice (Freshworks). This online ITIL change management solution offers gamification and workflow customization capabilities.
Remedy Change Management 9 (BMC Software). COBIT, or Control Objectives for Information and Related Technologies, assists managers in planning, tracking, and implementing successful changes.
A change management model is a set of theories, concepts, and methodologies that serve as guides for implementing a successful change process. The documents do not provide detailed steps for implementing transitions but lay out a framework for doing so.
Thinking about what you wish to change before selecting a change management model is critical. It is better to use specific models for certain types of changes. Kübler-Ross Change Curves and Bridges' Transition Models are examples of change management models that benefit people-centric changes.
The ADKAR Model and Enhanced Kotter's 8-Step Change Model can prove very useful for managing changes related to processes and systems. As both models focus on outcomes, they can help accelerate transformations.
ADKAR's Change Management Model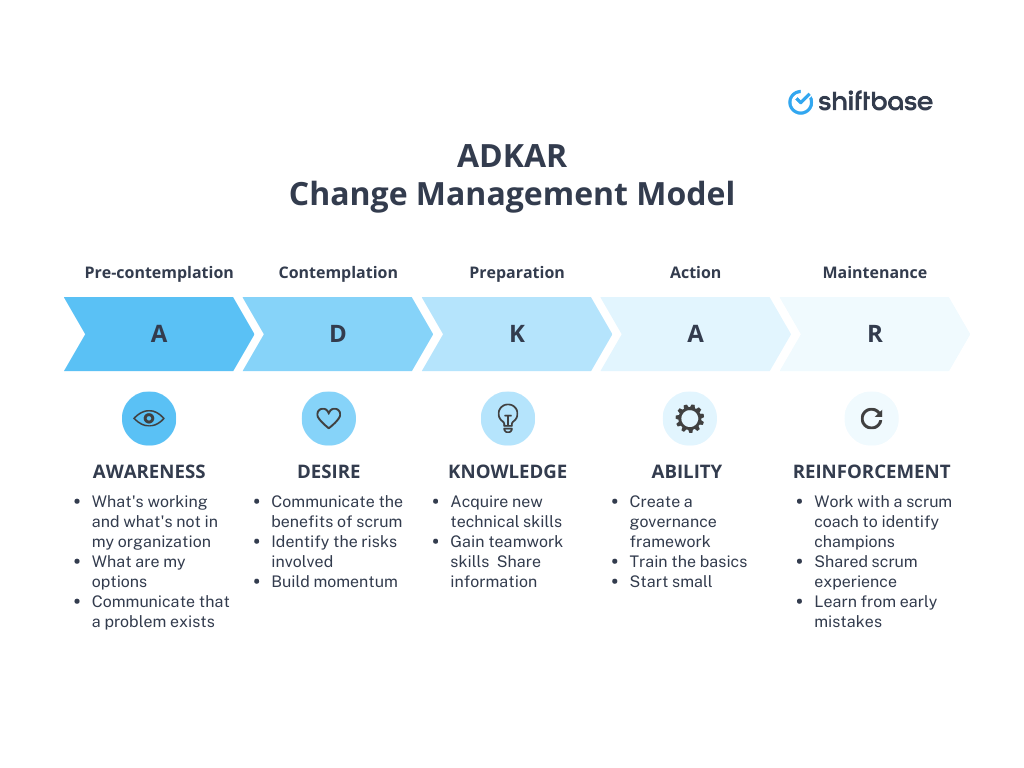 The ADKAR Model focuses on five key outcomes, which all aim to limit organizational level to resistance change. They are:
Awareness: Resolve to change or develop an understanding that there is a reason to change.

Desire: Motivation or reason to act; understanding how the change will benefit them.

Knowledge: The ability to know what is required to change; what will be different after the change is adopted.

Ability: the ability to put the required know-how into practice, often supported by seeing others successfully change and implement desired skills

Reinforcement: The skill and motivation to keep applying the new knowledge and behaviors; change is part of regular everyday activity.
Kotter's 8-Step Change Model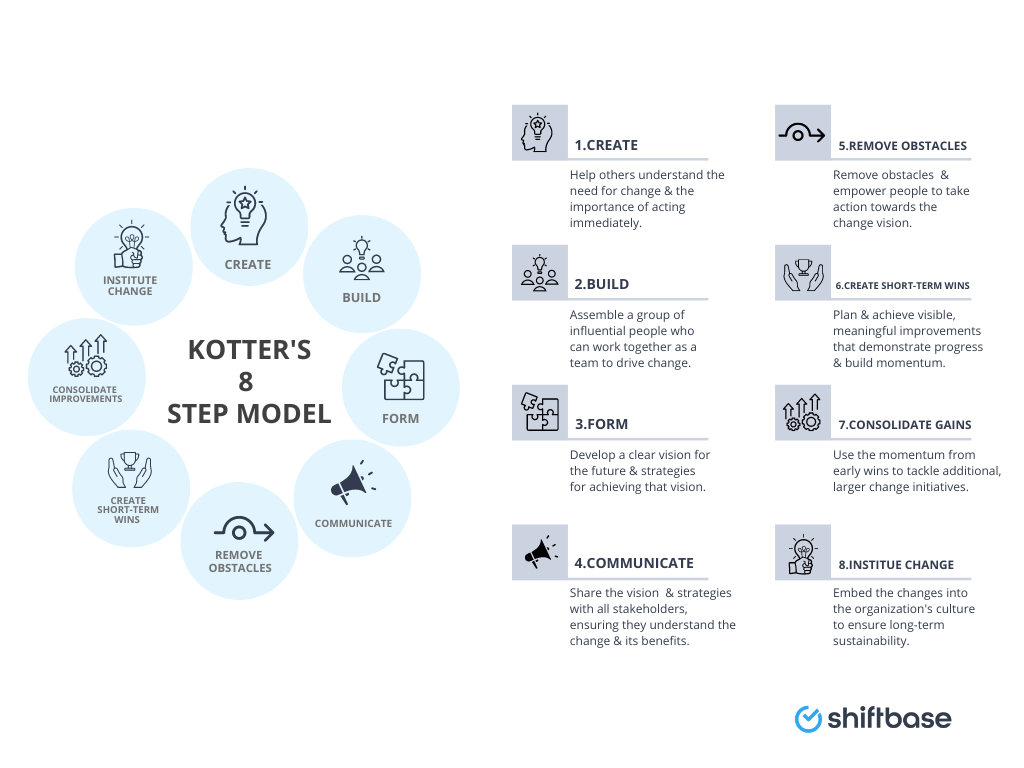 According to Kotter's 8-Step Model, you must do the following:
Create a sense of urgency: Help others understand the need for change and the importance of acting immediately.

Build a guiding coalition: Assemble a group of influential people who can work together as a team to drive change.

Form a strategic vision and initiatives: Develop a clear vision for the future and strategies for achieving that vision.


Communicate the change vision: Share the vision and strategies with all stakeholders, ensuring they understand the change and its benefits.


Empower broad-based action: Remove obstacles and empower people to take action towards the change vision.


Generate short-term wins: Plan and achieve visible, meaningful improvements that demonstrate progress and build momentum.


Consolidate gains and produce more change: Use the momentum from early wins to tackle additional, larger change initiatives.


Anchor new approaches in the culture: Embed the changes into the organization's culture to ensure long-term sustainability.
Management
Written by:
With years of experience in the HR field, Carin has a lot of experience with HR processes. As a content marketer, she translates this knowledge into engaging and informative content that helps companies optimize their HR processes and motivate and develop their employees.
Disclaimer
Please note that the information on our website is intended for general informational purposes and not as binding advice. The information on our website cannot be considered a substitute for legal and binding advice for any specific situation. While we strive to provide up-to-date and accurate information, we do not guarantee the accuracy, completeness and timeliness of the information on our website for any purpose. We are not liable for any damage or loss arising from the use of the information on our website.
Save time and money
Workforce management software from Shiftbase
Try for free