Employee scheduling
Create employee schedules quickly and easily
Make a schedule for your employees in minutes with our staff planning software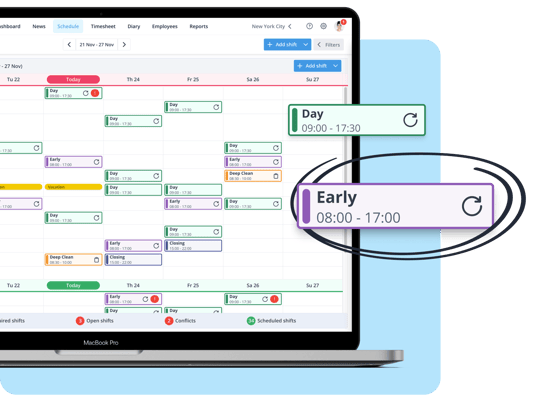 Shifts scheduling
Create an employee schedule and share it with your employees
Create employee schedules as you're used to, but now easier, in one central place
Create work schedule easily through shift templates and recurring shifts
Create and modify schedules with drag-n-drop
Make use of flex-teams to easily exchange employees
Take employee availability and absence into account
Try for free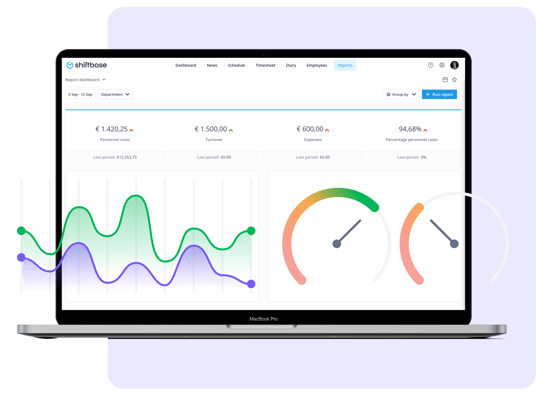 Manage personnel costs
Take control of personnel costs and stay within your budget
Take personnel costs and expected turnover into account during your planning
Get insight into the wage costs and surcharges while planning
Get insight into personnel costs percentage based on the expected revenue
Create schedules based on work hours or budgeted Labour costs
Get standard and detailed reports
Try for free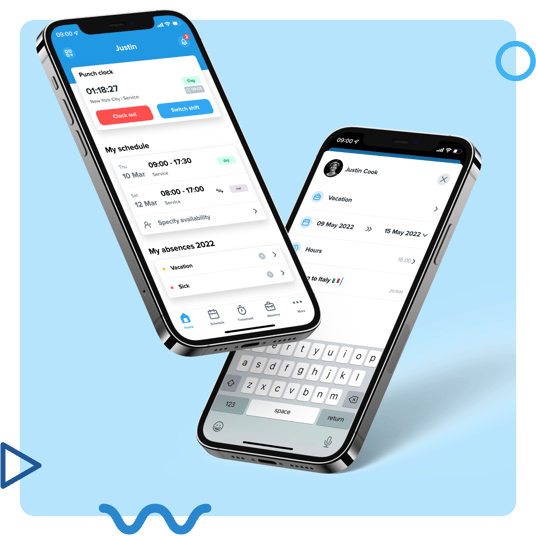 Employee scheduling app
Manage all the functionalities of Shiftbase in one app
With the employee scheduling app, you can use all the functionalities of Shiftbase:
Employees can always view the schedule
Planning and managing of shifts
Track and manage hours worked
Request and approve personal time-off requests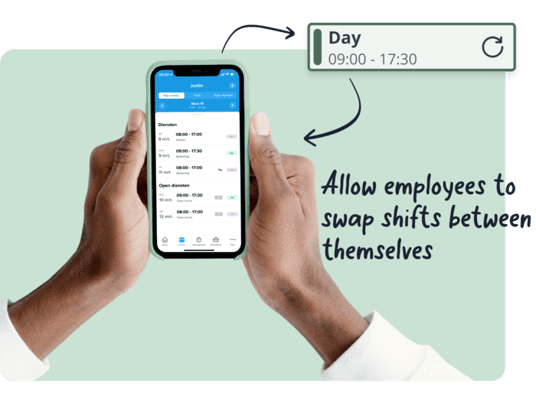 Flexible scheduling
Quickly adapt your schedule to changing circumstances
Handle schedule changes smartly in case of illness or unforeseen circumstances.
Invite employees for open shifts
With the approval of the scheduler
Allow employees to exchange shifts between themselves (with management's approval)
Get scheduling conflicts alerts such as overlapping shifts and Working Hours Act (ATW) violations
Try for free
Get the most out of your employee scheduling!
Open shifts

Occupancy

Drag and drop

Flex pools
Shifts exchanges

Competencies

ATW control

Budget and costs
Availability

Weather predictions

Leave registration

Agenda
4.4 of 5

4.5 of 5

4 of 5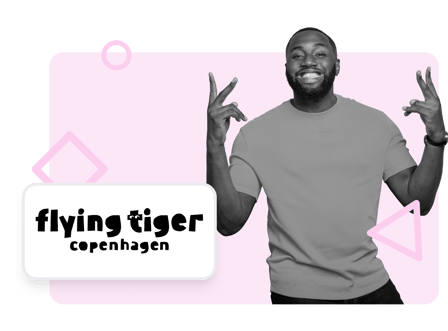 "We are happy with Shiftbase because all our employees can easily view the schedule and indicate their availability in the app! And the customer service is helpful and responds quickly to all our questions."
Sabrina Barten
HR-employee at Flying Tiger Copenhage
View the possibilities of Shiftbase for your sector
Our clients, big and small, come from different industries. Discover how our software can help you with your goals.
More industries
FAQ
What is an employee scheduling software?

An employee scheduling software is a time management tool to keep track of employees' schedules. Using this software, you can develop, manage and automate employee schedules. The use of employee scheduling softwares by businesses with hourly workers can maximize efficiency and free up resources for other tasks.

There are many features available in employee scheduling softwares. For example, as soon as scheduling conflicts arise, this will be automatically flagged in the system. Furthermore, all employee vacation, sickness, and compensation time is tracked regularly. Sheduling softwares also provide analytical and reporting tools that are helpful for employee remuneration and improving scheduling tactics over time.

Overall, scheduling softwares assists business owners, managers, and HR employees in managing employee schedules by automating and streamlining the process of creating and tracking employee schedules.

What are the features of Shiftbase scheduling software?

Update on the go

Shiftbase's mobile app allows busy managers to access their schedules from anywhere, anytime.

Streamline Communication

When you add, edit, or delete shifts on a desktop or mobile device, employees are notified in real-time. Additionally, employees can easily switch shifts amongst themselves based on their availability.

Empower Employees

Employees have the option to claim open shifts at their convenience depending on schedules and capacity needs.

Easily Manage Compliance

With schedule templates managers can easily schedule recurring shifts and mark favorites, so you don't have to start from scratch each time. You can also create standard lunch breaks, shift rules, and even manage labor costs with shift budgets: an automatic calculation is made based on employment rates and overtime hours.

Access at-a-glance insights

Scheduler Dash, or the library of standard reports, provides a simple way to see who's scheduled, what gaps exist, and employee preferences, availability, and planned time off.

Why should you use employee scheduling software?

Traditionally, it's the responsibility of facility managers to prepare employee schedules using pencil and paper.

Thanks to personal computers, these executives could now create spreadsheets digitally rather than by hand. In the long run, spreadsheets have been a basic tool, but now there are employee scheduling apps focused specifically on employees that make it all much easier for managers in charge of scheduling.

Employee scheduling software today offers managers the benefits of time savings, increased productivity, and lower costs. Their capabilities go beyond just speeding up the scheduling process.

Software solutions for employee scheduling have been associated with an 88% increase in coverage. They offer many advantages, including automating specific processes and improving team communication.

Why is employee scheduling important?

It helps increase efficiency.

A successful business needs a smooth and consistent workflow. As a facility manager, you make a schedule with work hours, deadlines, etc. An employee scheduling system will especially be a great help for managers.

By making maximum use of existing skills, knowledge and resources, can helps increase productivity. It can also help an organization identify potential training or development needs and develop strategies to address them. An effective workforce planning system makes it easier for companies to adapt quickly when the organizational climate changes or new technology is introduced.

Manages employee attendance and pay

Employees must be consistent and productive during work hours to meet project goals and deadlines. Managers must follow up on regular payments on time and deal with them appropriately.

For example, if certain employees frequently take leaves or arrive later than their shift times, you track this in the system and tell management so they can take action.

That's not all. You can also use employee scheduling to calculate the hourly wages of contract and part-time workers before payday if they are contracted.

It makes shift management efficient.

Employees will likely work in shifts if the company is always open. It's not a good idea to overbook your employees or allow them to arrive randomly, disrupting your work. You can avoid these issues completely with the help of a good employee scheduling system.

Schedule workers based on their previous work experience, skills, and previous shifts. Employees can communicate easily and thereby signifcantly reduce conflict. 53% of shift workers believe that clear schedule communication enhances shift workers' performance by creating a more fulfilling work environment.

Overtime management

Scheduling overtime is sometimes unavoidable. As a facility manager, you must ensure that these allocations are reasonable because such shifts reduce employee productivity (one study found that a 10% increase in overtime reduced productivity by 2.4%).

Consider hours worked, pay rate, and employee availability when scheduling overtime. In addition, overtime workers need to be paid in accordance with labor laws. It is, therefore, more vital than ever to keep track of employee work hours and schedule them effectively.

Schedule employees' leave

Employees will take leaves from time to time. During these times, you must ensure that work remains smooth as a facility manager. To approve leaves, you must rely on employee scheduling or modify work schedules to accommodate them. The systems you set up will ensure fair leave approvals and appropriate work allocation.

What are the advantages of shift planning software?

Employee scheduling is vital for successful and is used by all businesses. Your company will reap many benefits when you create the best employee schedule. Here is four of the benefits you can count on:

Reduction in employee turnover

Employees will be less likely to look elsewhere to work if they feel their hours are properly scheduled and there are few problems with their schedules. To keep your employees happy, you must maintain their trust and fairness in their schedules.

Simple Time-Tracking/Payroll

Managing employee schedules and tracking time are closely related. With the rights scheduling even payroll processes can become allot easier.

Ensure productivity

Employees need a schedule aligned with their responsibilities to stay focused and know what they are expected to accomplish daily. Clear expectations will increase employee productivity.

Trouble-free operation

You will ensure your business runs smoothly by scheduling the right employees at the right times. A retail business, for instance, needs its best employees to work during the busiest times to function smoothly. Scheduling will prevent or even eliminate gaps, and other scheduling conflicts completely.

Essential scheduling software features for field services and construction

It would help if you spent little time or effort creating an accurate employee schedule. Scheduling systems can help you automate and save you time during the day. The following are some things to look for in scheduling software!

Automatic employee notification

Using your scheduling software, you should notify your employees about schedule changes in real-time. It is essential to communicate effectively with employees off-site to manage their schedules and expectations.

Shift/job changes

Using a schedule that allows employees to seamlessle switch between shifts and jobs is highly beneficial as employees can manage schedule changes without the help of the manager.

Leave/ vacation tracking

The best scheduling softwares always have a feature to help managers tracks employee leaves and vacation time. This software should also provide employees with the ability to submit leave or holiday requests.

Accessibility

The software should be compatible with all computers and smartphones. Its essential for employees to be able to access their schedule anytime, from anywhere.

Usability

Employees should be able to schedule themselves easily through a user-friendly sheduling system. This system should also be a straightforward and simple approach to scheduling that simplifies the process and overview.

Location/GPS

When you are in the construction or field service industry, your employees should know where they will work. Your employees will appreciate the convenience of using a scheduling tool that automatically navigates them to their assigned jobs. The right software makes it easy to find the right solution for your business.

What are the features of an employee scheduling app?

Features of an employee scheduling app may include; creating employee and staff schedules, filling in upcoming shifts, distributing schedules, viewing time off, reconciling timesheets, managing shift swapping and improving team communication. The software should also provide tools and data to prevent time theft, control labor costs, and align labor with forecasted demand in the scheduling process. All of these features are available on one cloud-based platform.

How does workforce scheduling software control labor costs?

You can view employee wages in real time and adjust staffing accordingly. In addition, you can view payroll costs by team, week, or location to stay within budget. In addition, by considering various factors, such as hourly rates, qualifications, and overtime, this software can determine which employees are the best fit for certain shifts.

How can an employee scheduling tool help you comply with labor laws?

Scheduling is directly mapped to pay & hour compliance policies, so you'll receive notifications when non-compliant shifts are scheduled so that you can adjust your schedule. Plus, you can assign qualifications, licenses, and certifications to employees so they can only work shifts they're qualified to work.

Can employees see their shifts on their phones using Shiftbase?

The Shiftbase app allows employees to see their schedules on their phones. Employees can view their shifts anytime, anywhere, with the employee scheduling feature. Additionally, they can easily request time-off and change shifts through their phones.

How many employees can you schedule with Shiftbase?

The Shiftbase scheduling platform allows you to schedule anywhere from 20 to 200,000 employees. The platform can handle all types of businesses - small, mid-market, or enterprises.

Is there a Shiftbase mobile app for iOS and android?

Yes! The Shiftbase employee scheduling app is available and works smoothly for both iOS and android devices.

How do you communicate with employees using Shiftbase?

The Shiftbase platform enables managers to send announcements to specific teams, locations, and employees on time, ensuring that time-sensitive information reaches its intended recipients. In the mobile app, announcements are pushed as notifications whenever they are broadcast to employees.

Does Shiftbase integrate with my payroll & HRIS systems?

Yes! Shiftbase provides open API integrations with a wide range of other software providers. The integrations allow you to easily integrate sales data straight from the POS, sync employee information directly to payroll, and transfer timesheet data directly to payroll.

What is the best employee scheduling software?

Scheduling software must save you time while leaving your google calendar free for other priorities. Additionally, it should reduce labor costs for you. The best software for this is typically one that offers a good deal of customization and is user-friendly. An example of such software is Shiftbase.

Does Shiftbase integrate with time & attendance softwares?

Yes - it's one of the most important integrations you can have with a scheduling tool. The Shiftbase platform provides scheduling, timekeeping, and attendance information, all in one place. It is crucial to monitor absence in real time. The scheduling system constantly collects data from time clocks, enabling managers to track time actively, compare scheduled vs. actual hours, and fill open shifts as necessary. Additionally, timesheets are more accurate and detailed due to this integration.