Punch Clock
Punch Clock
Our punch clock system reduces the risk of errors
Time recording using a punch clock
The punch clock has made its comeback. Companies are returning to a modern take on this tried and tested technology that makes registration of hours faster and more accurate.
---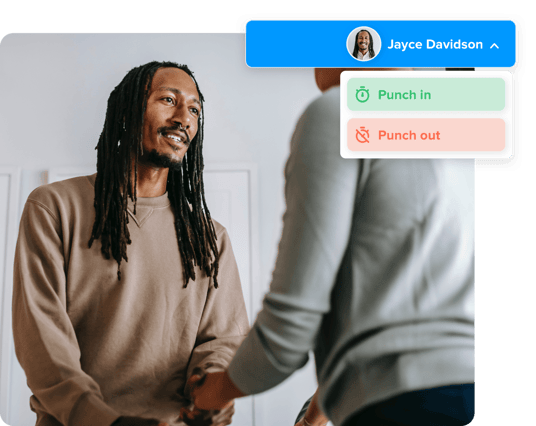 How does the punch clock work?
Shiftbase's modern take on the punch clock is a box installed on location with a direct connection to our software via the internet. Our punch clock enables real-time insight into which employees are clocked in and what the current labor costs are. If an employee forgets to clock in or out, their registered hours can always be adjusted manually.
Punch clock with ethernet, Wi-Fi, or 3G
Punch clock directly connected to Shiftbase
Manual adjustments possible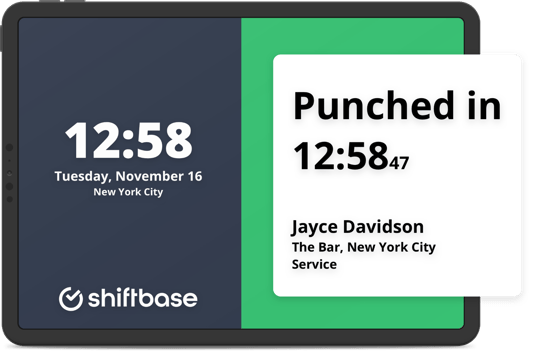 Kiosk
With the Kiosk app, employees can easily punch in. You install the kiosk on a tablet, which you can then place or mount in a central location. Employees receive a unique pin code with which they can punch in and out from that central tablet.
No high purchase cost of a terminal
Reduces the chance of incorrect hours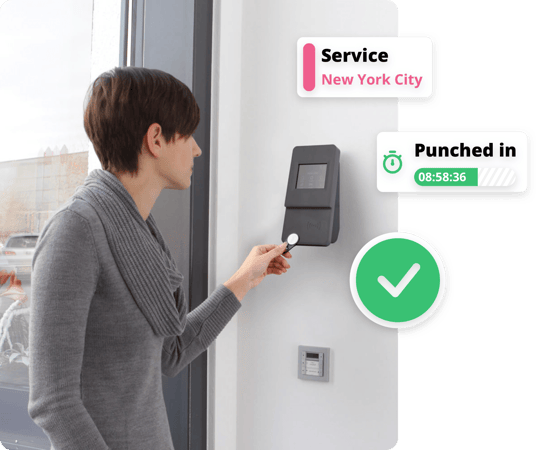 Terminal
An alternative to our Kiosk, is to use a clock terminal. This gives you a lot of real-time data such as who is currently punched in and the current wage rates. Employees can punch in and out using a keychain, card or finger scan.
Clocking in with finger scan, keychain or bank card
Real-time insight into useful data
The benefits of a punch clock
The simplest way to register hours
Less chance of incorrect time registrations
Automatic rounding of clock times
Clock in and out with a finger-scan or keychain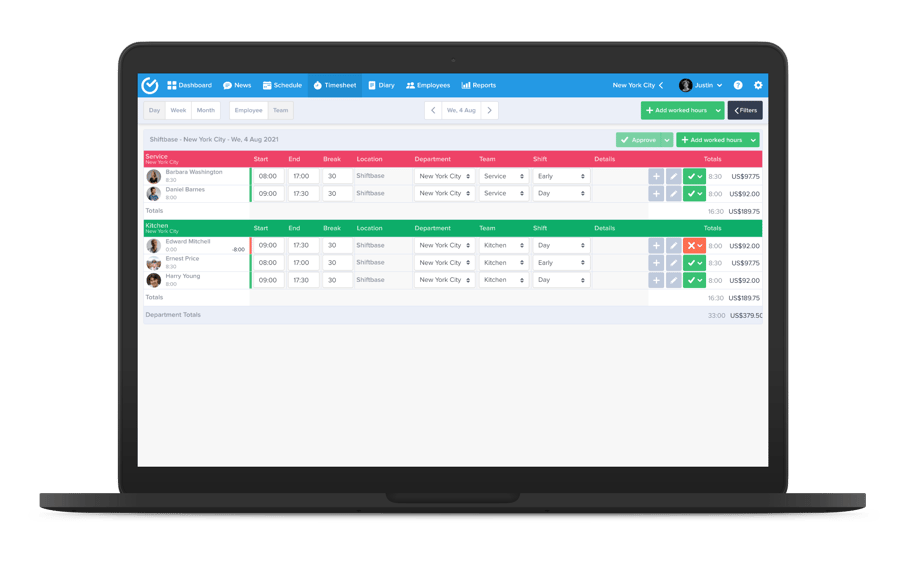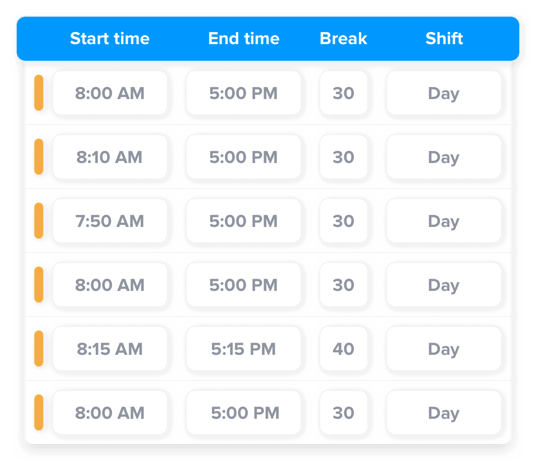 Reduce incorrect registrations
Many companies use a paper time sheet to register worked hours. When employees fill in their hours, they are often illegible or incorrect. By using a punch clock, these errors become a thing of the past.
Always correct time registration
Time registration on paper is a thing of the past
Easily export hours to accounting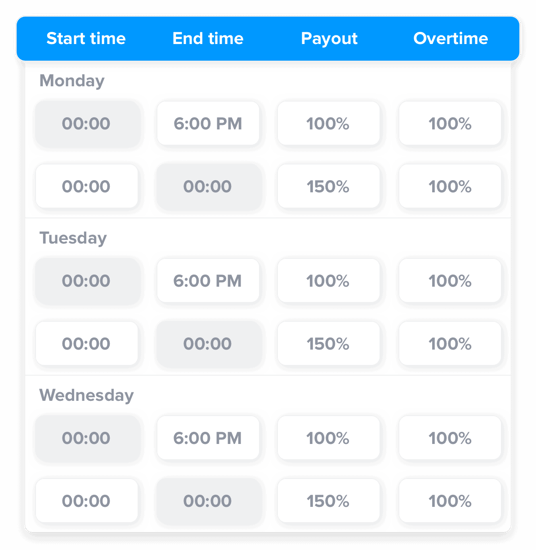 Automatic time registration
By using a punch clock, time registration can be fully automated.
Automatically round clock times
Clocked hours can be entered automatically based on the work schedule. When an employee clocks-in before the scheduled time, the start time of the shift is recorded.
Automatic calculation of breaks
The software can automatically calculate breaks. This is based on hours worked or fixed break times. When an employee clocks-out, Shiftbase looks at the number of hours registered and calculates the break time.
No errors
Allowing employees to punch in on site decreases error proneness.
Rounding off hours
Hours are automatically linked to shifts and rounded off accordingly.
Break calculation
Based on the hours worked, the break time is automatically applied.
Surcharges
Irregularity surcharges are calculated in real time for employees.
Geolocation and IP
Determine with Geolocation and IP from which location employees can punch in.
Time saving
Automatically transferring hours worked saves you a lot of time.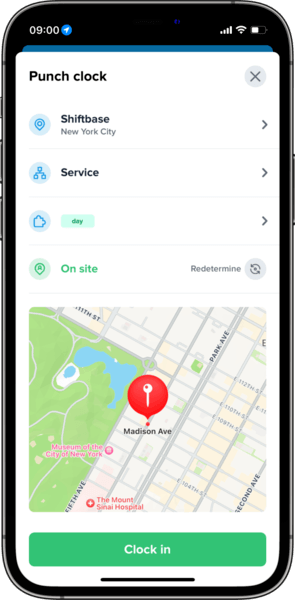 Punching in with the mobile app
In addition to punching in and out from a central location with the Kiosk or a clock terminal, it is also possible to have employees register their hours worked via the mobile app. This can be useful if employees work on location or from home. As administrator, you decide from which locations punching in and out is allowed.
Punching in and out outside the office
Determine the location restrictions
Insight into who is working where
Create a trial account in Shiftbase and start clocking today!
Quick signup for your free 14-day trial
Frequently asked questions
A digital punch clock will automatically register worked hours of your employees and always provides insight regarding the presence of your employees. The punch clock ensures that employees can easily clock in and out autonomously, which makes the time registration even less complicated!

Punch clock systems are frequently used at companies where many different employees work in many different services. Think of retail, the hospitality sector, and production companies. They make use of a punch clock to be able to keep track of the working hours of all different employees.

The hours worked are registered by, for instance, a bank card or key chain. An employee will hold this against the device to clock in, as well as clock out. The device can be positioned near the entrance, or at a central location, such as the company canteen. With a digital punch clock, you will use a punch clock app. The hours worked immediately go into the system, providing a nice overview of the hours worked per employee. This overview is used not only for control but also for your administration and salary payments.

The information collected by the punch clock system can be used perfectly for the management of your planning, absences, overtime, etc.
The registration of the hours worked, absences, overtime, and surcharges are thus automated.
Less error-prone, because collecting information about the hours worked is no longer done manually.
You can get informed about any abnormalities in the area of: late arrivals, absence, absenteeism, etc.
Employees being late will happen less often. The employees are aware that their hours and their location are visible and will attempt to respect their working hours to a greater extent.
It is easy to use. All the employee needs to do is clock in and out using their bank card or key chain and thus register their hours.

GDPR legislation has led to many rules for the use of finger scans. A finger scan is a personal detail and thus defined as highly privacy-sensitive information. That is why the latest trend is to use NFC technology, allowing you to clock in and out using, for instance, your bank card or key chain.

All a punch clock needs to use is power and an internet connection. Some punch clocks support power across ethernet, which means a separate power cable is not even necessary. The installation process consists of linking employees to the related controller tag.