Human resource management
HRM in a Single Online Application
An internet application that allows for easy management of your employee data
Manage your human resources online
Manage employment contracts, vacation balances, plus-minus hours, and personal employee information in a single tool. Changes to employment contracts can be processed immediately, the overview of vacation balances is easy to keep up with, and overtime can be calculated quickly. All these data can be corrected as necessary.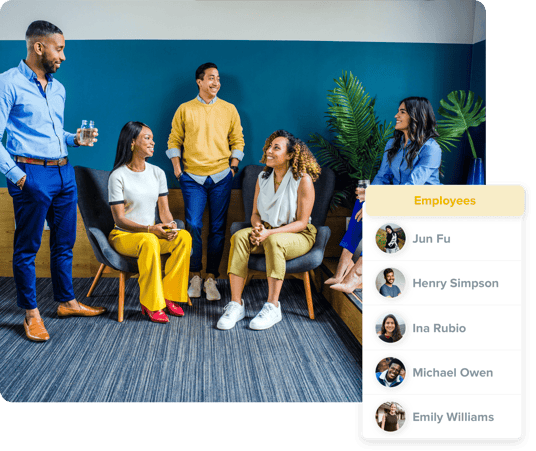 Human Resources Management
Manage employee contracts from one central location. Within an employee contract, the software offers automatic accrual of vacation time, calculation of plus-minus hours, and much more.
Automatic accrual of vacation hours
Automatic contract reminders
Notifications of anniversaries and birthdays
Contracts
Keep track of all your employee contracts online and receive a notification when they are about to expire.
Files
Manage employee documents in one central place and receive a notification when a document expires.
Notes
Write online notes for employees so you can build up your personnel file easily.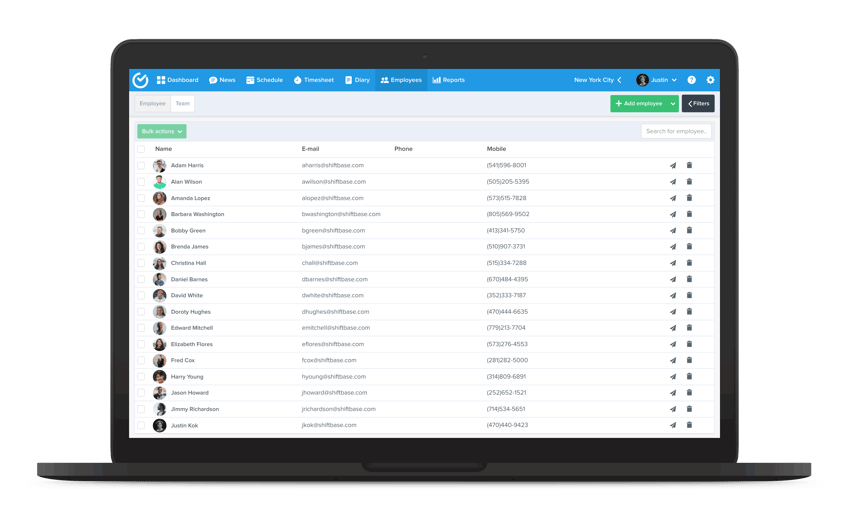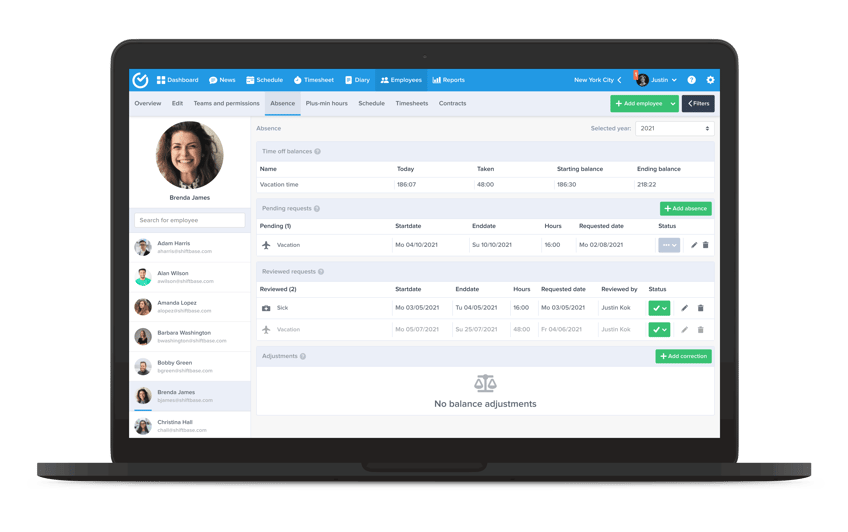 Employees
As a manager, you can view and manage employee data on the go using our app.
Overtime
View worked hours versus contract hours to see if you have discrepancies.
Vacation hours
Employees can view their current vacation hours, hours spent, and add future absences in the app.
Start managing your human resources in Shiftbase today!
Quick signup for your free 14-day trial
Frequently asked questions
The larger the organisation, the greater the necessity to have human resource management. Human resources consists of information about your company and your employees. The absence and the absenteeism administration are often included in this administration as well. In good human resources, you document information about:

Departments and job titles
Employment contracts
Time registration
Communication details
Contact details
Training
Provisions (keys, mobile phones, access cards, etc.)
Lease car administration
Insurances
Absence administration
Absenteeism administration and guidance
Assessments/appraisals
Management reports
Termination and disputes

As an employer, you must comply with several administrative obligations. You must, for instance, set up a salary administration and create an employee file.

It is easy, comprehensible and it saves time! Using online planning software, you manage absence, hours worked, training, plus and minus hours and other documentation regarding your employees. And all in one place! As an employer, you also have a statutory obligation to do this. Clear arrangements will prevent discussions with employees and thus prevent conflict situations. You also reduce the risk of fines or surcharges after checks by the tax authorities.

The advantages include:

You comply with the compulsory laws and regulations
You have the possibility to register the absence and absenteeism of your employees
You have online insight into your employee administration, always and everywhere
You make decisions based on complete and up-to-date information

Good human resource management with an online planning tool enables you to easily manage all information regarding your employees within a secure online environment. Administrative processes and keeping up with laws and regulation often takes a lot of time. Therefore, it is important that processes are organised efficiently, which is made possible thanks to online human resource software.

In addition, an online human resource can easily be linked to, for instance, your payroll package or your clocking system. This way, you can easily connect the hours worked to the salary administration.