About this template
Work schedules in Excel are used by many companies and can easily be customized by the user. To simplify scheduling even further and to bridge the gap until you can switch to Shiftbase, we offer you this free employee schedule template.
What information do you need for a roster template?
When using excel roster templates, there are certain pieces of information that need to be included for all staff members to ensure accuracy and efficiency. The most important piece of information needed is the names of each individual involved. Optionally you may also include contact details such as:
email addresses
phone numbers
physical addresses for individuals if necessary.
You should also include other relevant information such as job titles or roles within the organization, pay rates or salary amounts (if applicable) and weekly working hours.
How to set up a roster template in Excel
To start using this roster template to create an employee schedule, open a new spreadsheet document in the template. Start by entering the employee names in one column, along with any relevant identifying details or such as contact info or job titles. Then create columns for each day of the week that includes the days for which you will be rostering (for example, Monday through Sunday). You can also add additional columns such as hours worked per shift or total hours left. Don't forget to indicate the start and end dates of the roster. Have you filled out everything? Then you you're ready to download and share the shift roster with your team. You can share the shift roster in Excel via Whatsapp, email or print it out and hang it up where its visible for all staff members. Download the excel roster template instantly and start customizing as per your business requirements.
The benefits of having a staff roster excel template
A staff roster excel template can be a valuable tool for any business, helping to streamline the roster creation process and ensure that staff have the right shift times. Some of the key benefits of having roster template are:
A roster template is an easy way to create and manage employee schedules
If you're just starting out your business a roster template can save you time spend on creating a work schedule every week.
Roster templates also helps your business save money. Especially if your business is not yet ready to invest in an automated work schedule tool, roster templates are very convinient.
Roster templates allows managers to easily track working hours, vacation an absences.
Having all shift roster details in one place also makes it easier to plan ahead for your business and make changes if needed.


The limitations of an Excel staff roster template
A staff roster excel template can be a useful tool for managing shift schedules and tracking staff availability, but it does have some limitations. First, Excel is designed for data entry and manipulation rather than scheduling tasks. This means that the roster template might not always display the most up-to-date information on which employees are scheduled to work when. Additionally, Excel roster templates lack features such as automatic notifications or alerts in case of shift roster changes or cancelled.
Further, staff roster templates do not offer an easy way to view your employees availability across multiple locations or sites. Finally, sometimes roster changes happen quickly due to unexpected events; however, because roster templates are manual tools they may take longer to update than other automated solutions.
Are you ready for that next step?
Then using an online tool instead of an excel template to make an employee schedule is the next level for you. With Shiftbase you can easily create an online schedule for all employees. You can schedule shifts on the computer or on the go with the mobile app. Because the schedule is online, there is no need to download or share a single file. Employees will always have the latest schedule updates in real time.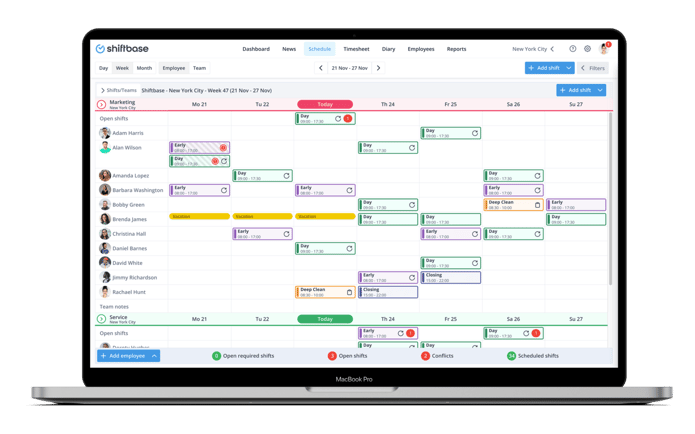 Download your free Excel work schedule here