Sabbatical Leave Explained: Definition, Benefits, & Eligibility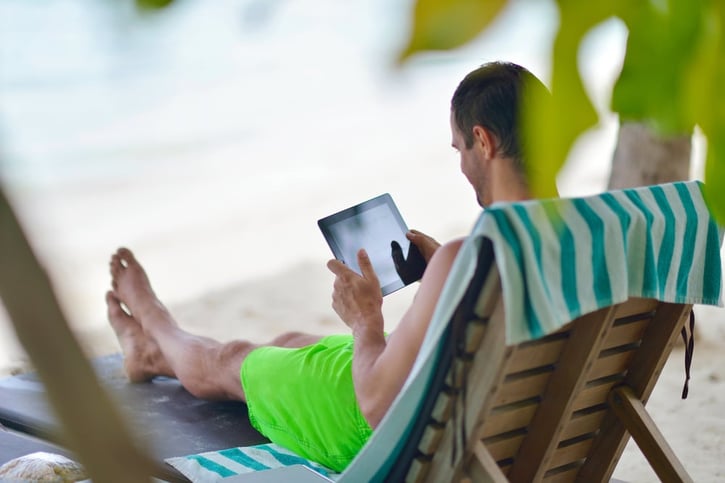 What is a sabbatical leave?
A sabbatical leave is a career break taken by an employee, typically with their employer's approval. It's usually used to take some time off from work to pursue something new or provide yourself with some much-needed rest.
Taking time away from your normal job duties can give you a break needed to rest, recharge, and return rejuvenated! Whether it's taking a year off for travel, study abroad, volunteer opportunities, or reconnecting with family members- sabbaticals have plenty of potentials to reinvigorate and inspire.
How do I request a sabbatical leave?
You should follow these steps to apply for sabbatical leave.
#1 Request permission
You need to make your request known to the relevant people in your organization, including Human Resources (HR) and your direct supervisor.
#2 Explain why you feel taking a break
Outline the reasons why you feel a sabbatical leave is needed, so your employer can understand the importance of giving you time off.
#3 Negotiate terms
Once you get approval for a sabbatical leave, it's time to negotiate terms with your employer. This step is crucial as it will determine whether or not you receive compensation during your leave.
#4 Put things in writing
It's important to get everything in writing, including the duration of the sabbatical, payment arrangements and any other particulars that are agreed upon. This will ensure there is no confusion or conflict later on.
What are the benefits of taking a sabbatical leave?
The sabbatical benefits can be broad and vary depending on the individual. Some of the advantages include the following:
Time off to explore new interests in life: This could range from deep diving into something new to finally having the time to pursue an old hobby or dream.
An opportunity to travel: Taking a sabbatical leave can allow you to explore the world more in-depth and experience different cultures.
A chance to rebalance work-life balance: Taking a break from the work routine can help you gain more perspective and clarity on your personal goals.
The opportunity to learn new skills: Whether learning a new language or developing a business idea, having extra time on your hands can be invaluable.
The opportunity to gain new perspectives on life: Taking a break from your regular job and environment can open up new possibilities for you to explore.
Improved job satisfaction upon returning from the sabbatical: Research has shown that those who take a sabbatical leave often return to work with renewed vigor and increased job satisfaction.
Professional Development: Taking a sabbatical can also advance your career, as employers may view it favorably as an indication of self-motivation and growth.


What is paid sabbatical leave?
Paid leave is when an employer grants an employee time off work with full or partial payment. This could be in the form of salary, bonus, vacation days, etc., and is usually negotiated between you and your employer.
Why should a company offer a sabbatical leave?
The most common reason for paid or unpaid leave are:
Educational goals: To allow employees to pursue educational goals.
Family time: To give them time off for personal or family reasons.
Time to recharge: Take a break from your job and recharge yourself.
Learn skills: To gain new skills and experiences or pursue personal interests that benefit the organization.
Different career paths: To give employees time to explore different career paths.


Will take a sabbatical affect someone's career?
Taking a sabbatical period leave can benefit someone's career in many ways.
Learn new skills: It can allow them to gain new skills and explore new pathways in life.
Time to re-energize: Take a break from their job to re-energize themselves.
Motivation to grow: It can show employers that an employee is dedicated and motivated to grow within the company.
Get new insights: A properly managed sabbatical can provide new insights and perspectives that may benefit your long-term career goals.
Escape normal job duties: Gives employees a chance to escape from normal job duties and pursue their personal interests.
Boost morale: Such leaves can boost employee's morale and give them a new perspective on life and maybe their job.
Risk involved: A sabbatical may put your career at risk if not managed properly, as employers may see it as a lack of commitment or dedication. Therefore, it is important to plan your sabbatical carefully before taking a break from work and to keep your employer informed of your plans.


Unpaid sabbatical leaves
An unpaid sabbatical leave is when an employer grants an employee time off work without full or partial payment. Unpaid sabbaticals are usually taken for one to six months and may be requested by an employee to pursue their interest while having job security.
Or granted to them by their employer. They can be beneficial in many ways, such as providing a chance to explore personal interests or to gain new skills and experiences.
However, planning your sabbatical carefully and keeping your employer informed is important. Unpaid sabbaticals can put your career at risk if not managed properly.
How should companies set their sabbatical leave policies?
Companies should set clear and reasonable policies for sabbatical leaves. These policies should reflect the company's needs while also considering the employee's needs.
Some points to consider when setting these policies to include:
What types of sabbatical leave will be allowed?
How long will the employee be granted a sabbatical leave?
Will the employee's salary and benefits continue during the break?
Are there any restrictions on activities while on sabbatical?
What is expected of employees when they come back after?
The duration of the leave, how much the company will provide pay or compensation, and if any special training or education is required for the employee to take advantage of the sabbatical leave.
These policies should be communicated clearly and openly with all employees so that everyone is on the same page. This will ensure a smooth experience for both employer and Employee during this time.
Paid sabbatical leave policies
There are some crucial aspects that you will find in a model sabbatical leave policy. All these sabbatical leave rules should be clearly defined in Employee's Handbooks or the company's rules book.
A business needs to make sure you clearly define key elements in the sabbatical leave policy.
Eligibility criteria
The amount to be paid
The duration of leave that employees can request.
What happens if the employee is unable to complete the goal?
The application process
The minimum and maximum limit for these leaves
By having a comprehensive sabbatical leave policy in place, employers can ensure that employees can take advantage of this opportunity while ensuring their business objectives are met.
Do all companies provide employees with sabbatical leaves?
No, not all companies provide employees with sabbatical leaves. It is important to remember that a company can decide if they want to offer this benefit. Usually, small start-ups with limited resources may be unable to support such an expensive program.
On the other hand, large companies and organizations with more resources can easily offer a sabbatical program as part of their employee benefits package to increase morale and attract top talent.
It is up to the company to decide whether they want to provide employees with this benefit. However, some organizations may be open to discussing the possibility of allowing their employees a break from their work duties.
What is a sabbatical leave policy template?
A sabbatical policy template is a document that outlines the following points
The company's guidelines and expectations for allowing employees to take a sabbatical leave.
Eligibility requirements, duration of leave allowed
How much pay or compensation will be provided
Rules or restrictions on activities while on sabbatical leave
What is expected of employees when they come back after the break.
Purpose of sabbatical leaves policy template
The purpose of a sabbatical leave policy template is to clearly define the terms and conditions of a sabbatical leave program.
This template will guide employers in creating their own sabbatical leave policy and will help ensure that all employees are aware of the rules and regulations associated with taking a sabbatical.
Conclusion
Sabbatical leaves are beneficial to both employer and employee. Employees can recharge and come back feeling refreshed with new ideas. Employers benefit from having employees who are recharged and enthusiastic about their work.
If your company does not have a sabbatical leave policy, now is the time to create one! Use our Sabbatical leave policy template as a starting point for creating your own custom policy that meets the needs of your business and employees.
Frequently Asked Questions
The frequency of sabbaticals varies from company to company. Some employers may allow employees to take a leave of absence once every few years, while others may offer more frequent sabbaticals for an extended period.

The timeframe for submitting a request will depend on the company's policy. Generally, employers require that employees submit their requests within at least 90 days.
Employee
Written by:
Rinaily is a renowned expert in the field of human resources with years of industry experience. With a passion for writing high-quality HR content, Rinaily brings a unique perspective to the challenges and opportunities of the modern workplace. As an experienced HR professional and content writer, She has contributed to leading publications in the field of HR.
Disclaimer
Please note that the information on our website is intended for general informational purposes and not as binding advice. The information on our website cannot be considered a substitute for legal and binding advice for any specific situation. While we strive to provide up-to-date and accurate information, we do not guarantee the accuracy, completeness and timeliness of the information on our website for any purpose. We are not liable for any damage or loss arising from the use of the information on our website.
Save time and money
Workforce management software from Shiftbase
Try for free