Workation Definition: A Complete Guide For Managers
What is a workation?
A workation is a combination of work and vacation. It's a way to take a break from the mundane routine of everyday life and add some adventure and excitement to your work week.
Workations are becoming increasingly popular as they offer a way to detach from the distractions of home and explore new places while being productive.
There are many different ways to schedule a workation. Some people take their work with them on vacation, while others use their vacation time to explore new places and immerse themselves in local culture.
Workation differs from work and travel because work and travel aim to fund the stay through odd jobs rather than enjoying a relaxing vacation. Young people, in particular, like to go on this type of trip because you can make your travel dreams come true at a fraction of the cost.
However, Workation also has some disadvantages. The biggest is that you may not be able to disconnect from work and enjoy your vacation fully. There is also a risk of burnout if you try to pack too much on vacation.
Short-term workation
Short-term workation refers to a work assignment that lasts less than one week, a weekend break or a weekend break. For example, it might be a three-day midweek workation trip or a weekend getaway.
Short-term workaways are most likely taken near home. You may have to travel by train or short flight to a nearby place. For example, personal lives in London may travel to Cheddar in Somerset, Murcia in Spain, or even New York.
Medium-term workation
Workations of this kind usually last for a couple of weeks. If one lives in London, they could spend a month in Iceland or Thailand or spend some time on the coast of Burnham-on-Sea.
Long-term workation
The most common type of workation is long-term workation. People who undertake long-term workations are temporarily relocated to another area so that they can work from there.
The need for additional remote work visas or permissions for long-term workaways varies from country to country. As a result of this new trend, digital nomad visas are now available in many countries for people who want to work from home.
An extended periods trip could take place anywhere (such as digital nomads). Most of the time, a workation like this would last between a few months and a few years.
What are the benefits of a workation?
There are many benefits of a workation, including the opportunity to see new places, meet new people, and learn new things. Some of the other benefits of a workation are:
Better work-life balance one of the main benefits of a workation is that it can help you promote a better work-life balance. Because when you work on vacation, you can go about your business and still enjoy your free time.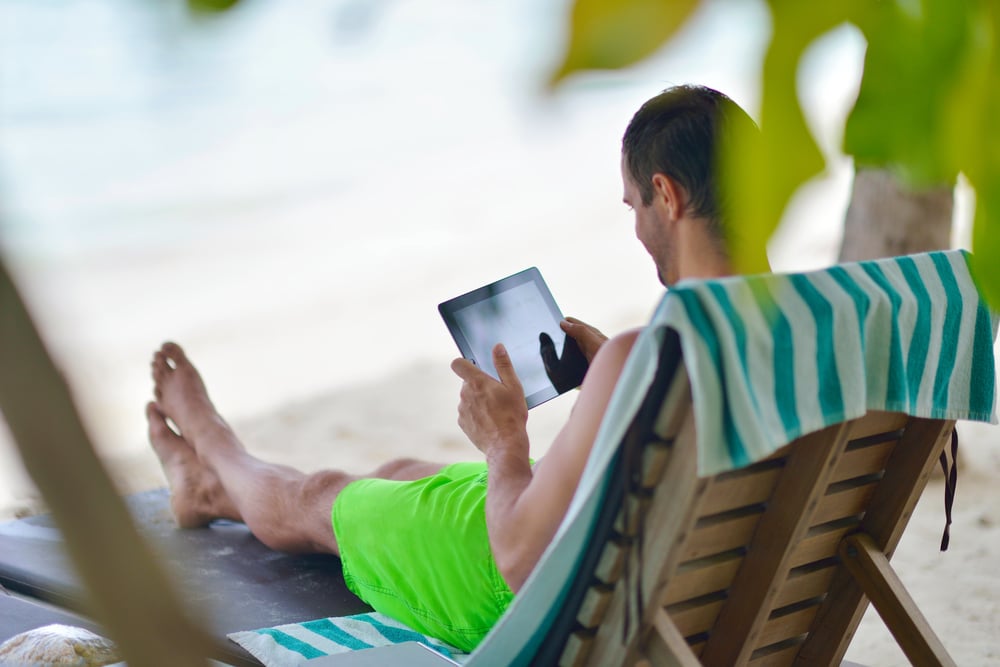 Combining business with pleasure allows you to manage your time more efficiently and avoid burnout. You'll also feel less guilty if you take time off since you'll use that time to work on significant projects.
The key to the success of a workation is setting clear boundaries between work and play. So you can enjoy your time off and do meaningful work simultaneously.
Increased Productivity
Another benefit of a workation is that it can lead to increased productivity because a change of scenery can provide a much-needed break from everyday life.
A workation can help boost your creativity and motivation when you're feeling stuck. Being in a new environment can also help stimulate new ideas and approach problems from new perspectives.
The relaxed atmosphere of a workation can also help improve your focus and concentration. There are fewer distractions, and you can detach yourself from stressful work situations. All these factors can lead to increased productivity, which is a massive benefit for any business.
Improved Health
Taking a workout can also be good for your health. It is because vacations have been shown to reduce stress and improve overall well-being.
A workation allows you to participate in activities that are good for your mind and body. It includes exploring new trails, trying new restaurants, and getting that much-needed rest.
Health is a significant factor in productivity, so the improved health that comes with a job is another benefit companies can enjoy.
Improved Connections
A workation can also be a great way to improve your professional connections. It is because you have the opportunity to meet new people in your field who can help you advance your career.
If you want to network, a workation is the perfect opportunity. You can attend industry events, meet new clients and connect with other professionals in your field. These connections can prove invaluable down the line, so it's worth pursuing.
The improved connection benefits businesses as you can help them find new opportunities and expand their networks.
Enhanced Creativity
A person's creativity isn't just about having new ideas. It's also about connecting the dots and seeing things from different perspectives. When you are in a place with a completely different culture, you will start to see things from a new perspective.
When you attend a workation, you can take a workation break from your work and explore the new place you are in. It can help refresh your mind and give you a new perspective. You might even come up with new ideas for your work.
Improved creativity can also lead to better job performance. When you are more creative, you can come up with better solutions to problems and be more productive at your work.
More Flexible Schedule
A workation can also give you a more flexible schedule. It is because you can work whenever you want as long as you finish your work.
It can be very beneficial when you have family or other commitments that make it challenging to stick to a strict 9-5 schedule. With a workation, you can avoid your obligations and still get everything done.
It's an added plus if your work location is in a different time zone than where you live. This can give you even more flexibility as you could work while it is nighttime in your home country.
Useful Read: The 4-day work week schedule - An Implementation Guide
Support local businesses
By attending a workation, you can support local businesses. This is because you are spending your money on the local economy and helping to boost the local economy.
Both you and the local companies benefit from this. You'll find unique places you wouldn't have found otherwise, and local businesses will appreciate your support.
It's also worth noting that supporting local businesses is good for the environment because it reduces the need to transport goods from other places, saving energy and resources.
What are the disadvantages of a workation?
While a workation has many benefits, it's important to note that there are some potential downsides.
Unwanted invasion of privacy
Some employees feel that work is making a positive difference in their work-life balance, while others think it is an invasion of privacy. That's because employees are constantly in touch with their peers and supervisors during a workation, which can make you feel like you're always on the clock.
To prevent this, it is vital to set clear boundaries between work and free time. Make sure you schedule and stick to breaks and downtime.
Increased
Stress levels in a job can also lead to increased stress levels for some employees. It is because you may feel pressure to be productive at all times and feel like you cannot switch off from work.
Setting reasonable goals for what you can achieve is crucial if you want to get the most out of your job. It's also important to keep in touch with your co-worker, so everyone is on the same page regarding what needs to be done.
Limited Opportunities
Some employees may find their work a waste of time because they cannot take advantage of all available opportunities. For example, if you work from a remote location, you may not be able to attend networking events or meet new customers.
The best way to meet this challenge is to be proactive and make the most of the opportunities that come your way. For example, if you work from a remote location, you can use social media to connect with potential clients and network with other professionals.
Lack
Of Structure Another challenge employees may face during a work placement is the lack of Structure. When you're not in an office, losing track of your work and being less productive is easy.
The best way to overcome this challenge is to create a daily routine and stick to it. Do you plan time for work, breaks, and leisure activities? Also, try to find a quiet and distraction-free workspace.
Homesickness
Some employees may miss their homes and loved ones at work. It can be challenging, primarily if you work remotely. To combat homesickness, try to keep in touch with loved ones through social media or video chat.
You can also try to find activities that remind you of your home. Finally, remember that a workation is temporary and you'll be back home in no time!
Who is suitable for a workation?
The workation model is only suitable for certain professions. The target audience is people who can finish work without being in the office or interacting with customers. You work primarily online, you don't have to meet with clients or clients, and you can do your work from anywhere with a high-speed internet connection.
The following professional groups will benefit from workationing:
Freelancer
Freelancers can work from anywhere in the world with an internet connection. All you need is your laptop, and you're good to go. The Workation model is the perfect solution for freelancers who want the freedom to roam and explore while still getting paid.
Entrepreneur
The Entrepreneur fits perfectly into the Workation model. You probably don't need to be in the office when you run your own business. You can take your business to the street and work from anywhere worldwide.
Bloggers and Copywriters
The working model is perfect for you if you are a blogger or copywriter. This way, you can travel to distant places without worrying about a stable internet connection or lugging around a heavy desktop computer.
Accountant
The accountant is responsible for maintaining financial records, preparing financial reports, and ensuring taxes are paid promptly. Workation is an excellent opportunity for accounting staff to learn about new software and systems while gaining valuable experience working with a foreign company.
Vloggers and Podcasters
It's easier than ever to start your vlog or podcast. You only need a laptop, an internet connection, and creative content. Once you have these three things, you can work from anywhere worldwide. It makes the Workation model perfect for people who create videos or podcasts.
Web
Designers are responsible for creating and developing websites. You typically use a variety of programming languages ​​and web development tools. Workation is ideal for web designers as it allows them to work from anywhere in the world. The only requirement is a laptop and an internet connection.
Advisor
Advisors advise companies and organizations. You often have expertise in a specific area, such as marketing, human resources, or information technology. Consultants find the workation model ideal as it allows them to work with clients worldwide.
Your work schedule in one central place!
How to have a successful workation
A successful workation requires careful planning and execution. The first step is choosing the right travel destination. Consider your budget, the climate, and the type of work you'll be doing. Once you have decided on a destination, you book your travel and accommodation.
Next, create a daily routine and stick to it. Make sure you have plenty of time for work but plan some fun activities. This will help you avoid burnout. Finally, you stay in touch with your colleagues and customers. Check back regularly and keep up to date with your progress.
With some planning, you can have a successful and enjoyable job!
Prerequisites for a successful workation
Workation is only successful if both employer and employee are satisfied. Companies should frequently review employee working conditions and set fair standards to ensure this business model works correctly and avoid future misunderstandings.
The following questions will help you to implement a workation concept in your company successfully: ·
What is the optimal mix of work and vacation?
Which days of the week are intended for work, and which can be used as "normal" vacation days?
When is it appropriate for supervisors and colleagues to contact an employee by phone or video?
Is there a stable and fast internet connection at the holiday destination?
Does the one-bedroom apartment meet your standards?
Can the employee use the desk, or does he need access to restricted co-working spaces?
What can be done to encourage workation employees to perform at their best and to bind them to the company?
In addition, employees must have the necessary skills to perfectly complete a job. You should also be in control of her emotions as this position requires a high level of stress management.
The following qualities are required for a successful workation:
Patience
Flexibility
Adaptability
Creativity
Organization
Time management
Stress management
If both employer and employee adhere to these guidelines, the workation will be a success. Consequently, the company saved money, and the employee would have had a fantastic experience.
What's the difference between remote work and workations?
Remote work and workation are two different things. Remote work refers to working from home, while workation refers to working from a location other than your home.
Remote workers can be on-site or off-site, depending on their job type. For example, if you're an employee working for a company with a remote office, you'll most likely be working remotely.
Conclusion
A workation is a great way to get away from the office and explore a new place while you get some work done. It can be an excellent opportunity to network with colleagues, learn about other cultures and see the world.
However, it is vital to plan and be prepared for the challenges of working remotely. A workation can be a fun and productive experience for everyone involved with a little preparation.
Time-tracking
Productivity
Written by:
Eveline is an experienced HR expert with a passion for content writing in the field. She has distinguished herself by sharing her in-depth knowledge and insights into HR topics and trends through articles that are both practical and informative. Her experience and expertise in human resources add value, and she continues to dedicate herself to informing and inspiring peers with her well-thought-out and well-founded content.
Disclaimer
Please note that the information on our website is intended for general informational purposes and not as binding advice. The information on our website cannot be considered a substitute for legal and binding advice for any specific situation. While we strive to provide up-to-date and accurate information, we do not guarantee the accuracy, completeness and timeliness of the information on our website for any purpose. We are not liable for any damage or loss arising from the use of the information on our website.
Ready to try Shiftbase for free?
Save time and money
Ready to try Shiftbase for free?
Try for free