The Art of Crafting a Compelling Job Description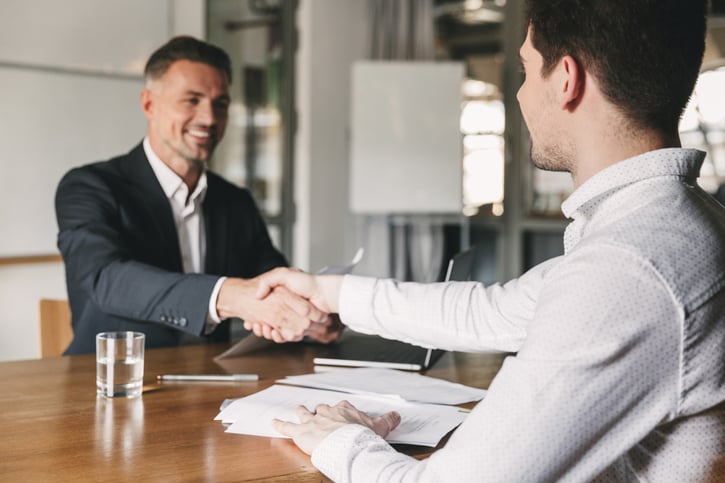 What is a job description?
The job description is a compilation of written, standardised content and detailed information about the tasks of a job. It defines the functions and activities required for the position as well as the employee's goals, competencies, and responsibilities. It is a valuable tool for workforce planning—some job description examples such as Web developer, Audio producer, Graphic designer etc.
A job description is always independent of the person since it does not contain any personal data. On the other hand, the position is defined as the smallest organisational unit in a company's organisational structure and not as a specific person. It describes the activities, responsibilities, and tasks required to implement the company's goals.
When an employee leaves a position, the job description remains the same. The tasks and responsibilities are transferred to another employee or taken over by the remaining employees in the team.
What goes in the job description?
The job description should include a list of the duties and responsibilities associated with the position and the required qualifications, skills, and experience. It should also include information on working conditions such as working hours, dress code and any travel requirements.
Some companies also include a section about the company's values ​​and culture in the job description. It can help attract candidates who are a good fit for the company. It's also an excellent way to ensure everyone is on the same page about the company's mission and values.
What is not allowed in a job description?
Certain items cannot be included in a practical job description. It consists of any information you could use to discriminate against an employee or applicant, such as Age, race, gender, religion or sexual orientation.
It is also essential to avoid any language that could be interpreted as promises that the company may not be able to keep, such as guaranteed promotions or salary increases.
Job Posting: It's important to distinguish between a job posting and a job posting. A job posting is a document that advertises a vacancy in a company. It contains many of the same elements as a job description but also includes information on how to apply for the job.
A job posting is typically used when a company is looking to fill an open position. External candidates the company doesn't already employ are more likely to be seen.
A job description, on the other hand, is an internal document that helps managers and employees understand the duties and responsibilities of a position. It is generally not seen by outside candidates.
How to effective Writing Job Descriptions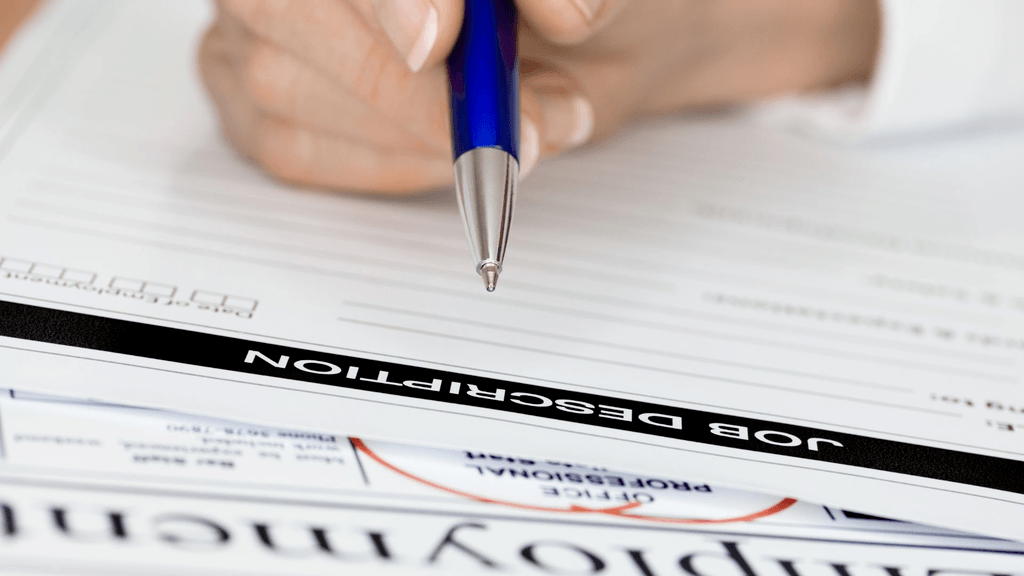 Job Title
Make sure the job titles are clear. Targeted job titles work better than general ones, so be specific and use key phrases that define the role.


Avoid internal jargon that may confuse the job seeker. Use regular experience levels like "Senior" rather than "VI" or other words.


Keep the title of the job short. Data reveals that 80-character job titles get more clicks.


Job Summary
Start with a strong summary that draws people in. Your resume should tell the reader about your company and what you expect from the job.


Describe your company's unique selling points. Your job description tells people about your company and what you stand for as an employer. Include information about your company's culture to show why someone would want to work for you. Eighty-two per cent of British job-seekers said they would be interested in learning more about the company if you included it in the good job description.


Give the exact location of the job. If you want your job posting to rank higher in job search results, you should include the exact location of the job.


Include information about the work environment and hours. 94% of job seekers in the UK thought it was important to see work hours and schedules in a job description. Also, 83% of job seekers in the UK thought that work environment details were essential to know in a job description.


Job Responsibilities and Duties
Describe the position's responsibilities. Make a comprehensive, concise list of responsibilities. Emphasise company-specific duties. Include this detail if you're hiring for an "Event Management" career involving social media to promote events so candidates can assess their qualifications.


Describe daily job duties. It helps candidates comprehend the workplace and daily routines. This degree of detail will assist candidates in assessing if the role and company fit their profile, attracting the best prospects.


Describe the role's place in the company. Indicate who the employee reports to and how they'll function in your organisation to help candidates comprehend the larger picture and how the role influences the business.


Qualifications and Skills
Include soft skills and a list of hard: In addition to education, previous employment history, certifications, and technical skills, the effective job description should specify the required education and experience. You can also include soft skills, like problem-solving and communication, and employee traits you envision.
Keep your list concise. Despite your desire to list every qualification and skill, you need in your ideal employee, too many details could discourage candidates.
Salary and Benefits
Include salaries range: Candidates with wage needs look for jobs. 92% of UK job seekers consider salary essential in a job description. Add a wage range to your job description to attract top candidates.
List your benefits: Who benefits? 82% of job applicants in the UK consider employee benefits necessary. Share the enticing perks and benefits your company offers, such as:
Flexible hours
Unlimited holiday
Office snacks
Dog-friendly office
Tuition reimbursement


Employee scheduling and Time-tracking software!
Benefits
A job description has many benefits for both the employer and the employee. Some of these benefits include:
Better recruitment
One of the main benefits of a job description is that you can help improve the recruitment process. A clear and concise job description will make it easier for you to identify which candidates are best suited for the job. It can save a lot of time and effort in the hiring process.
Improved
You can also use the job description to improve job performance. By describing the expectations and responsibilities of the role, employees have a better understanding of what is expected of them. It can lead to improved job satisfaction and motivation.
Better Compensation
Data another benefit of a job description is that you can provide valuable data for determining compensation levels. By understanding the duties and responsibilities of a role, employers can more accurately assess the value of the position. You can use this information to determine a fair and reasonable salary range.
Enhanced Legal Protection
A well-written job description can also provide employers with enhanced legal protection. The job description can be used in a dispute or litigation as evidence to support the employer's arguments. It is essential in cases of unfair dismissal or discrimination.
Set a performance appraisal standard
Finally, you can also use a job description to set a performance appraisal standard. With a clear understanding of role expectations, employers can more easily identify whether or not an employee meets those expectations. It can help ensure performance reviews are fair and accurate.
Disadvantages
Despite the many advantages of a job description, there are also some disadvantages. These disadvantages include the following:
Time
One of the main disadvantages of a job description is that it can be time-consuming to create. To ensure that the job description is accurate and complete, it is essential to spend a lot of time researching and writing a compelling job description. It can be a challenge for small businesses that don't have a large HR department.
Outdated Information
Another downside to a job description is that it can quickly become outdated. If the needs of the company change, you should update the job description to reflect those changes. Failure to update the job description can cause confusion and frustration among employees.
Can Inhibit Innovation
Another potential downside to a job description is that it can inhibit innovation. If co-workers feel you must strictly follow the job description, you may be less likely to take risks or suggest new ideas. It can stifle creativity and prevent the company from reaching its full potential.
May Promote Mediocrity
Another possible downside to a job description is that you can promote mediocrity. When employees know exactly what's expected of them, you're less likely to go above and beyond the call of duty. It can lead to complacency and a drop in overall quality.
Can Raise Unrealistic Expectations
A final downside to a job description is that you can raise unrealistic expectations. Employees may feel they can't meet all the requirements of the job description is too specific. It can lead to frustration and even resentment. Or if the job description is too general, employees may not feel challenged enough.
Job description templates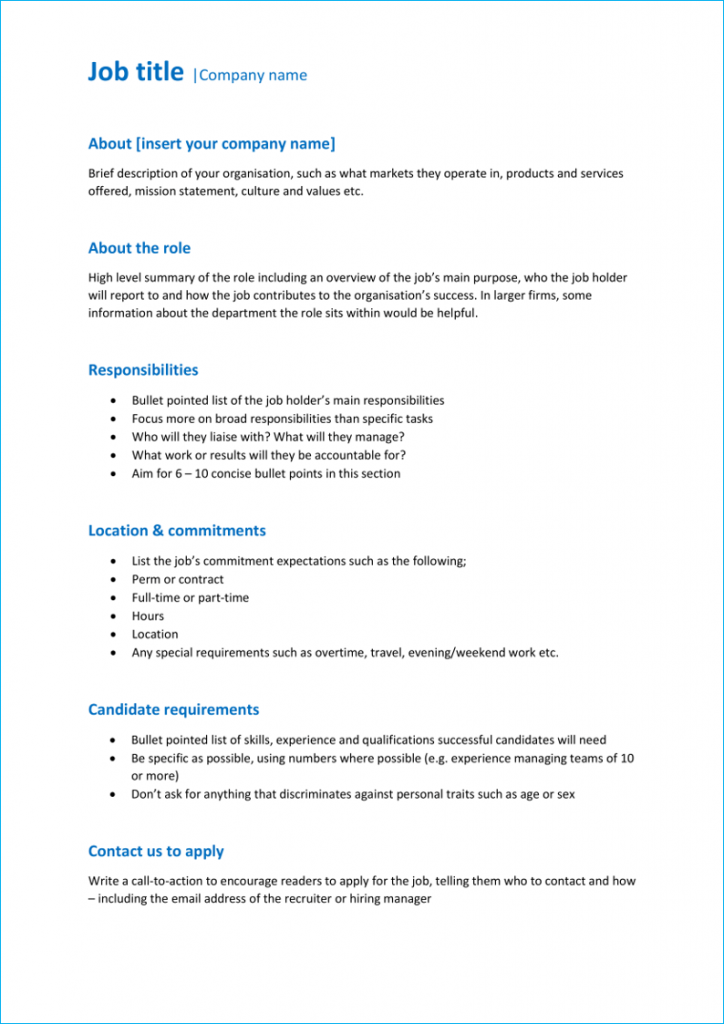 Using our job description templates, you can create your own professional, effective job descriptions based on fully formatted and downloadable texts.
Using our job description examples for inspiration, download one that suits your organisation's style, fill in the details for your role, and you're ready to start.
Once you have created your job description, save it as a non-editable PDF and distribute it to job boards.
Conclusion
Overall, a job description can be a helpful tool for companies of all sizes. When used properly, a job description can help improve communication, increase efficiency, and promote clarity in the workplace. However, it's essential to be aware of the potential downsides of a job description before implementing one at your company.
Employee
Written by:
Eveline is an experienced HR expert with a passion for content writing in the field. She has distinguished herself by sharing her in-depth knowledge and insights into HR topics and trends through articles that are both practical and informative. Her experience and expertise in human resources add value, and she continues to dedicate herself to informing and inspiring peers with her well-thought-out and well-founded content.
Disclaimer
Please note that the information on our website is intended for general informational purposes and not as binding advice. The information on our website cannot be considered a substitute for legal and binding advice for any specific situation. While we strive to provide up-to-date and accurate information, we do not guarantee the accuracy, completeness and timeliness of the information on our website for any purpose. We are not liable for any damage or loss arising from the use of the information on our website.
Ready to try Shiftbase for free?
Save time and money
Ready to try Shiftbase for free?
Try for free