Attendance sheet in Excel
What is Paid Time Off (PTO)
Paid time off (PTO) is a work benefit that provides paid days off to employees for vacations, holidays, and personal reasons. This paid leave can also include disability or sick leave.
Time off policies vary from employer to employer, with some providing paid vacation days and others providing time off in the form of sick days or other forms of paid leave. Employees typically accrue time off throughout the year, which they can use as needed. PTO is an important benefit for employers because it encourages healthy work-life balance while also providing the employee with flexibility and job satisfaction.
Why do you need a vacation leave tracker?
With a vacation tracker you can keep a leave registration record for all teams. By putting them in one overview you can keep an eye on the all (desired) vacation time. This prevents too many people taking time off on one particular day at the same time and you are understaffed. All public holidays and school vacations can be included so team managers can plan ahead.
What are the benefits of a vacation tracker template?
Leave tracking is an important part of any business, regardless of size.
Review vacation requests in just a few clicks:
They make it easier for employers to monitor leave usage and ensure that leave is taken responsibly by the employee. With excel templates, employers can easily review leave requests and balance leave allocations with the workloads of their staff.
helps the company manage employee productivity :
A leave tracking template also helps an employer gauge the amount of leave used by each employee during a given period of time. This information is invaluable in making sure that employees have enough rest and downtime, while still maintaining productivity levels within the workplace.
Helps companies identify prevent issues
These templates also provide employers with an easy-to-understand overview of how much leave has been taken and when it was taken. Employers can use this data to identify trends in leave usage and identify any potential problems or issues.
Helps companies streamline the leave managment process
Leave tracking templates also help employers ensure that leave is taken in the correct manner. This can include making sure that leave is approved before it's taken and keeping records of leave taken by each employee. These records are important for ensuring leave regulations are properly followed and that employees do not take too much leave which could affect their productivity levels.
Bottom Line on vacation tracking templates vs PTO tracking software
Vacation tracking templates are an easy and inexpensive way to keep track of employee time off. The leave tracker template can be customized with the company's pto policy. However, vacation tracking templates have their limitations. They don't provide employees with a convenient way to view the vacation days they have available, or request them electronically. Plus, vacation tracking templates are not designed to integrate with payroll systems, so admins must manually enter vacation hours into payroll software every pay period.
On the other hand, PTO tracking software offers many more benefits than vacation tracking templates. Employees can easily view their remaining vacation days on the system and submit requests electronically for approval from management quickly and conveniently. Plus, vacation requests can sync automatically to payroll systems, saving time and reducing errors. PTO tracking software also allows vacation accrual data to be stored in a secure place, which is ideal for compliance requirements.
For businesses looking for an efficient and accurate way to track vacation time, PTO tracking software is the best solution. It streamlines vacation management processes and ensures vacation days are used appropriately without taking up too much time or resources from admins. Additionally, it provides employees with a convenient way to view their vacation days and request them electronically, making the entire process seamless. Ultimately, using PTO tracking software instead of vacation tracking templates can help boost productivity while keeping vacation records organized.
Smarter vacation planning for your employees
Are you ready for the next step? Then using an online tool for instead of an excel leave tracker is the next level for you. Instant insight into leave requests and hourly balances all from one central location. Shiftbase supports the rules as they apply from the Vacation Act for statutory and non-statutory leave. With Shiftbase the entire process of absence registration is automated.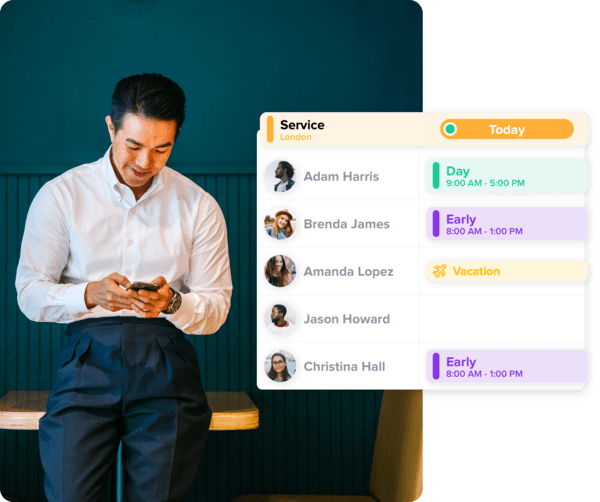 Management
Schedule
Disclaimer
Please note that the information on our website is intended for general informational purposes and not as binding advice. The information on our website cannot be considered a substitute for legal and binding advice for any specific situation. While we strive to provide up-to-date and accurate information, we do not guarantee the accuracy, completeness and timeliness of the information on our website for any purpose. We are not liable for any damage or loss arising from the use of the information on our website.
All topics
Save time and money
Workforce management software from Shiftbase
Try for free