Boomerang Employees: Pros, Cons, and Best Practices for a Successful Return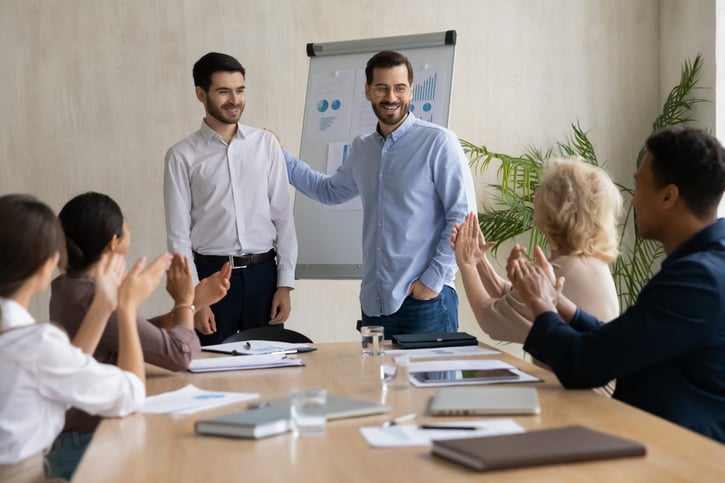 What is a boomerang employee?
A boomerang employee is a former employee that returns to the same company after gaining some experience elsewhere. While this phenomenon has been seen in the corporate world for many years, it has become more commonplace as job seekers have become increasingly mobile and open to new opportunities.
Boomerang employees can benefit employers, as they bring valuable knowledge and experience they have gained while working at other companies. This can help to strengthen the organization's existing skills and capabilities, allowing them to stay ahead of the competition.
Why are boomerang employees good for business?
Your former employees can be a valuable source of top candidates for your company. Here's why:
1) They'll Take Your Call
You are more familiar with your former employees than strangers who respond to your ads, making it easy for you to reach out and have an informal, honest chat about whether a new job opening would suit them.
According to Brendan Browne, Vice President of Global Talent Acquisition at LinkedIn, employees today tend to switch jobs frequently.
However, they are also more likely to stay in touch with their former employers, thanks to social media and alumni networks, which have played a crucial role in maintaining these connections.
2) Everyone Knows What to Expect
You can enjoy a great offer on the onboarding process because returning employees are already familiar with your company's schedules and expectations. Their skills and work habits also make them a safer bet for you.
According to Fox Business, managers can have more confidence in their decision to rehire a former employee who previously demonstrated strong performance at the company.
Speculating on the performance of the new contract is not as significant as assessing how quickly workers can adapt to it. Workers who adapt quickly can restore productivity to normal levels sooner and bring new industry knowledge through their external contacts.
3) They Strengthen Employee Loyalty
According to Brian Hughes, the CEO, and organizer of Integrity Marketing and Consulting, rehiring previous employees increases organizational confidence and boosts employee retention and loyalty.
It is commonly observed that when a colleague leaves, the remaining employees feel their absence. Rehiring a former colleague can create a sense of happiness and success in the workplace.
Brendan Browne supports this idea, stating that a prior work relationship may increase employee loyalty towards the company, leading to higher retention rates. Moreover, rehiring former employees is a testament to the good reputation of your brand as an employer, showing that your company offers one of the best working environments out there.
4) It's the New Normal
Your workforce is likely to consist mainly of millennials and younger employees. Their view of career differs from that of previous generations. They strive to develop their skills and build their career independently rather than being loyal to a company for many years.
According to a statement by Brendan Browne, the concept of reliability has evolved. This trend is supported by a LinkedIn study which reveals that the number of managers people work for in the five years following their graduation has nearly doubled in the past two decades.
A study by Deloitte has found that 66% of millennials are prepared to leave their current employer by the year 2020. These younger workers are not just job hopping for the sake of it, but are seeking employers who provide opportunities for upward growth and a chance to contribute to an organization's core values.
5) It's Cost-Effective
Hiring a boomerang employee can be much cheaper for companies than recruiting new employees. Companies don't have to go through the time-consuming process of training and onboarding them. Also, former employees are already familiar with your company's systems and processes so that they will need less supervision and guidance. The rehiring process is also more cost-effective than recruiting new employees, as the company does not have to pay for interviewing and advertising costs.
What are some effective strategies for enticing employees to return?
According to a survey by Software Advice, 80% of workers said their former employers had no process to encourage them to return. The first step to taking advantage of this significant talent pool is clearly and intentionally developing a methodology. Here are some basic best practices to help you get started:
1) Make Use of HR Technology
HR technology is ideal for keeping track of former employees and maintaining your connections with them. According to Brian Westfall, a senior economic specialist for Software Advice, it is easy to include employees who have withdrawn in a candidate tracking system. By doing so, HR can provide them with newsletters and updates, monitor their interactions with the company, and reach out to them again when their skills match a current job opening.
2) Offer Flexible Working Arrangements
Offering flexible working arrangements to returning employees is an effective way of enticing them back. This could include shifting from full-time to part-time or offering remote working opportunities. This can help rehired employees adjust and make it easier for them to balance their professional and personal life.
It is also beneficial to create a well-thought-out onboarding process. Such a process aims to ensure that returning employees are welcomed back and that their transition into the company is as smooth as possible.
3) Listen To Feedback
Listening to feedback and responding to former employees' needs can help your organization retain them in the long run. It is essential to stay in touch with former employees and update them about new job openings, company events, and other developments. This helps build relationships and trust that can be beneficial when recruiting these boomerang employees back.
4) Offer Reasonable Incentives
Offering reasonable incentives such as additional vacation days, better pay, or other benefits can help motivate employees to come back. This helps retain employees and makes them feel appreciated for their work and that their contribution is valued. It is also great to show them that your company values their loyalty.
Useful Read: Types of Benefits for Employees: A Complete Guide
What are the benefits of hiring boomerang employees?
There are numerous benefits to hiring boomerang employees, such as:
Familiarity with company culture and operations
One of the primary benefits of hiring boomerang employees is that they are already familiar with the company culture, operations, and expectations. They are not starting from scratch and have already gone through the onboarding process, meaning they can hit the ground running and be productive more quickly than a new hire. Additionally, they already have established relationships with colleagues and may have existing knowledge and insights into working effectively within the company.
Cost-effective hiring
Boomerang employees can be a cost-effective hiring strategy for companies. It is generally less expensive to rehire an employee who is already familiar with the company than it is to onboard a completely new employee. There is no need for extensive training or for the employee to learn the company's ropes. Additionally, the company already has some of the employee's information, such as their performance history, which makes the hiring process more efficient.
Increased employee loyalty and retention
Boomerang employees often have a stronger sense of loyalty to the company than new hires. This is because they have already worked for the company and left for a reason. They may have missed the company culture, their work, or the people they were working with. As a result, they are more likely to remain loyal to the company and stay longer.
Improved team dynamics
When employees return to the company, they can bring a fresh perspective and new experiences. This can lead to improved team dynamics and increased creativity within the team. They may also have gained new skills or knowledge in their time away from the company, which can benefit the company.
Boost company morale
When a boomerang employee returns to the company, it can positively impact company morale. It shows that the company is a good workplace and that employees who leave may eventually want to return. This can increase employees' pride in the company and help build a positive company culture.

Employee scheduling and Time-tracking software!
What are the cons of hiring boomerang employees?
Despite the many benefits of hiring boomerang employees, there are also some potential drawbacks. The following are some of the cons to consider when deciding if this strategy is right for your company:
Reduced job opportunities
Hiring a boomerang employee may reduce job opportunities for others who may be keen to fill the position. This could be particularly problematic in industries where jobs may be scarce and competition for positions is high.
Potential conflicts of interests
There can sometimes be a potential conflict of interest when hiring boomerang employees. They may have existing relationships with colleagues or an established way of working which could hamper the team dynamics. Additionally, they may disagree with changes made since they left, which could create tension.
Higher wages
Boomerang employees may expect higher wages than other new hires due to their previous experience and familiarity with the company. This could be a significant disadvantage for companies trying to reduce costs or operate on a limited budget.
Conclusion
In conclusion, boomerang employees offer the excellent business potential to benefit from the skills and experience of staff who have already established themselves in a company. By encouraging former employees to return, businesses can access a pool of skilled workers familiar with their culture, policies, and procedures. This could increase efficiency and cost savings and improve employee retention rates.
However, businesses should also be aware of the potential challenges of hiring boomerang employees, particularly if they're returning after a long absence or coming back in a different role.
By managing expectations and ensuring clear lines of communication between both parties, businesses can ensure that the return of former employees is triumphant and mutually beneficial.
Employee
Management
Written by:
Rinaily is a renowned expert in the field of human resources with years of industry experience. With a passion for writing high-quality HR content, Rinaily brings a unique perspective to the challenges and opportunities of the modern workplace. As an experienced HR professional and content writer, She has contributed to leading publications in the field of HR.
Disclaimer
Please note that the information on our website is intended for general informational purposes and not as binding advice. The information on our website cannot be considered a substitute for legal and binding advice for any specific situation. While we strive to provide up-to-date and accurate information, we do not guarantee the accuracy, completeness and timeliness of the information on our website for any purpose. We are not liable for any damage or loss arising from the use of the information on our website.
Save time and money
Workforce management software from Shiftbase
Try for free