What is a Hybrid Working Model? A Guide for HR Leaders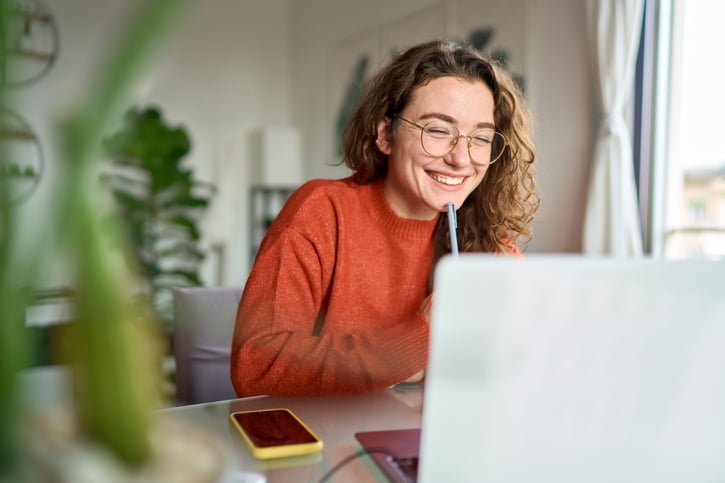 What is a hybrid working model?
The hybrid working model is a work style that enables employees to blend working from different locations: home, on the go, or in the office. This approach allows employees to work in a way that suits their needs, enabling them to achieve greater autonomy, flexibility, high performance, collaboration, positive work relationships, and effective work habits.
Variations of the hybrid working model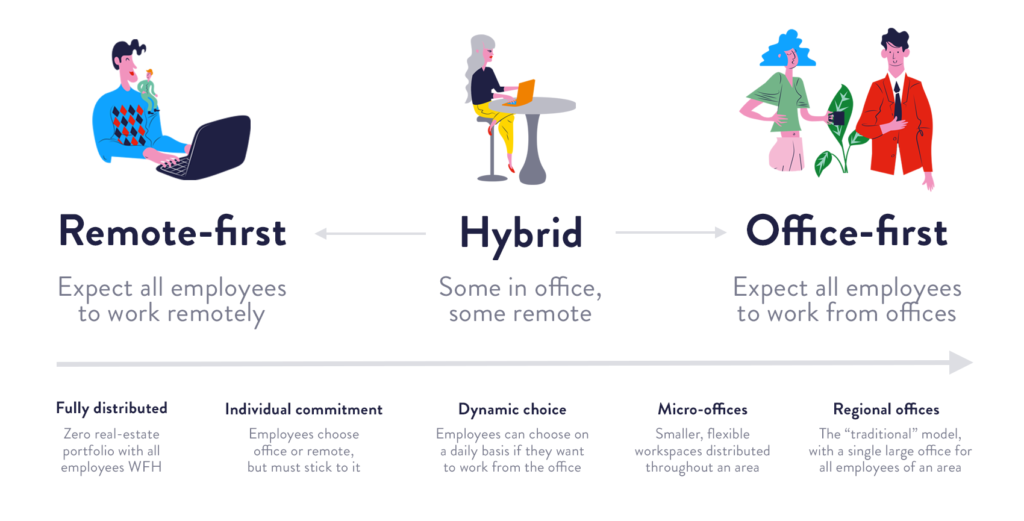 There is no one-size-fits-all when it comes to hybrid working models, and companies worldwide have developed various hybrid models to fit their businesses' needs and people. Here are some of the most popular hybrid working models companies use today:
Remote-first. In a remote-first hybrid model, people work from home, may live in different US states (or countries around the world), and hardly ever come into an office. Digital communications are the default in remote-first workplaces as people rarely see each other in person. Companies with remote-first work models may have workforces spread across different countries. They may hold annual, in-person events to promote team building and strong connections across their dispersed workforce.

Split-week. Companies that prefer to work on-site but want to provide people with flexibility may opt for the split-week hybrid model. With this model, companies require people to work on-site at least part of the week and from home for the rest of the week, e.g., two days at the office and three days from home.

Office-first. While the office-first hybrid model provides some flexibility, the majority of work is expected to be done from the office.
Useful Reads:
Why should HR leaders care about the hybrid work model?
HR leaders can help their people establish a system that suits their needs and personality type. The freedom to choose their desired work style can invigorate today's professionals, increasing retention, engagement, and productivity. By adopting the hybrid working model, companies can provide employees with a flexible work schedule to achieve greater autonomy, flexibility, high performance, collaboration, positive work relationships, and practical work habits.
Advantages vs. disadvantages of the hybrid working model
Before adopting a permanent hybrid working model, it is essential to consider the advantages and disadvantages.
Advantages:
Disadvantages:
Tips for implementing a hybrid work model
Implementing a hybrid work model that fosters productivity, engagement, and effective collaboration among team members working from different locations can be challenging. To help HR leaders implement this model successfully, here are some tips:
1) Gather Input from Your Team
Before committing to a specific hybrid work model, survey your team to understand what environments spark productivity and how they envision utilizing different spaces.
2) Develop a Hybrid Work Policy
Create a policy that caters to the responses you receive from your team, and make sure it aligns with your business's and workforce's needs.
3) Adapt Your Office Environment
Adapt your office to meet the needs of a modern workforce. This could include creating small, quiet spaces for video conferences and larger meeting spaces for in-person team meetings.
4) Schedule Regular Feedback Meetings
Frequent one-on-one meetings between managers and team members and managers and HR can help you stay connected and understand the evolving needs of your workforce, ensuring that everyone feels heard.
5) Facilitate Virtual Interactive Collaboration
Use "social media style" collaboration tools to enable people to make announcements, recognize co-workers for excellent work performances, and survey team members on important matters. Video conferencing is also essential to remote and hybrid collaboration, allowing people to benefit from seeing each other face-to-face.
6) Encourage Relationship-Building
Encourage team members to spend time together on video chats or meet up for coffee if they live nearby. Hobby groups and virtual clubs can also help nurture relationships and build common interests.
7) Provide Equal Benefits for Remote Workers
Ensure team members working remotely receive the same benefits as on-site colleagues. This will help show them they have valued team members and boost employee morale.
Real-world examples of successful hybrid work models
Hybrid work models have become increasingly popular among companies. Here are some examples of companies that have implemented hybrid work models successfully.
Shopify: Remote-First Working Model
Shopify has adopted a remote-first working model called "digital by default." The company allows employees to work from anywhere they want as long as they log in during standard work hours. Additionally, the company has an office where employees can work if they prefer an office environment.
Quora: Remote-First Hybrid Policy
Quora has also adopted a remote-first hybrid policy. However, the company requires employees to check in at the office at least once per month. This approach allows employees to work remotely while maintaining some in-person interaction.
Apple: Office-First Hybrid Model
Apple has adopted an office-first hybrid model, which requires employees to work from the office at least three days per week. While employees are allowed to work from home two days a week, the company emphasizes in-person collaboration more.
Microsoft: Firm Hybrid Work Policy
Microsoft has a firm hybrid work policy that allows employees to work remotely up to 50 percent of the time. However, each team member must agree on a schedule with their manager. This approach provides a balance between remote work and in-person collaboration.
Bank of America: Flexible Hybrid Work Policy
Bank of America's hybrid work policy requires employees to work on-site at least three days per week. However, the policy also allows for flexible schedules for some teams, while senior-level managers and finance teams will work from the office. This approach provides flexibility for employees while maintaining a level of in-person collaboration.

Employee scheduling and Time-tracking software!
Benefits of hybrid work model on company culture
The hybrid work model offers employees more flexibility, free time, autonomy, and a better work-life balance. As companies evolve to adopt this model, they can shape a fluid and dynamic work culture that prioritizes employee needs.
One significant advantage of hybrid work is the improved company culture that provides employees more autonomy and flexibility in their work schedules. This approach leads to greater employee satisfaction and work-life balance, which, in turn, boosts employee engagement and productivity.
With the hybrid work model, companies can promote adaptability and communication by enabling employees to work from different locations and providing them with the necessary tools and resources to work effectively. This creates a culture of collaboration and innovation.
Moreover, the hybrid work model can help companies attract and retain top talent by offering employees the flexibility and work-life balance they crave. When hiring, companies are no longer limited by location, which can also lead to improved diversity and inclusion.
In a nutshell, the hybrid work model provides a win-win situation for both employers and employees. Companies can benefit from a more engaged, productive, and diverse workforce, while employees can enjoy greater flexibility and work-life balance. Overall, it can lead to a positive shift in company culture, creating a more people-centric work environment.
HR Tech Solutions for Successful Hybrid Work Model Implementation
HR technology can be essential for companies implementing a hybrid work model. Here are some ways HR tech can help:
By leveraging HR technology, companies can efficiently manage their hybrid work model, improve communication and collaboration, and ensure that employees have the necessary resources to be productive and successful, regardless of location.
Conclusion
The hybrid work model is becoming increasingly popular among companies of all sizes and industries. Companies can improve employee satisfaction and work-life balance by offering employees more flexibility and autonomy over their work schedule, increasing engagement and productivity.
Implementing a successful hybrid work model requires careful planning and the right tools and resources. HR leaders can help their companies succeed by asking employees what works best for them and leveraging HR tech solutions to streamline communication, collaboration, onboarding, and benefits administration. By doing so, companies can create a culture of collaboration and innovation across different locations and attract and retain top talent.
Management
Written by:
Rinaily is a renowned expert in the field of human resources with years of industry experience. With a passion for writing high-quality HR content, Rinaily brings a unique perspective to the challenges and opportunities of the modern workplace. As an experienced HR professional and content writer, She has contributed to leading publications in the field of HR.
Disclaimer
Please note that the information on our website is intended for general informational purposes and not as binding advice. The information on our website cannot be considered a substitute for legal and binding advice for any specific situation. While we strive to provide up-to-date and accurate information, we do not guarantee the accuracy, completeness and timeliness of the information on our website for any purpose. We are not liable for any damage or loss arising from the use of the information on our website.
Ready to try Shiftbase for free?
Save time and money
Ready to try Shiftbase for free?
Try for free